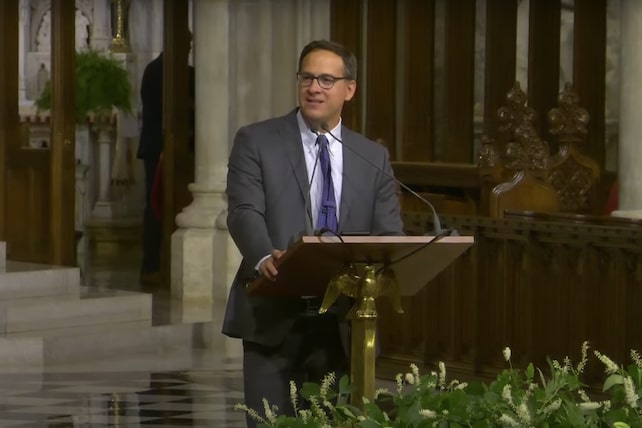 Two thousand people attended and 10,000 more joined the livestream for the memorial service for Dr. Tim Keller, held at St. Patrick's Cathedral in New York City on Tuesday, Aug. 15. The service was planned by Keller himself, and featured words of tribute from his wife, Kathy, and his sons Michael, David and Jonathan. 
"What are we here to do?" said Rev. Michael Keller in his introductory comments. "After the death of a Christian, we unite to do two things, always. First, we thank God for his life, for God's goodness in lending him to us for the years we had him." 
"Second," Michael continued, "we seek God for our life, for his comfort and presence. We aren't here just for him—we are also here for us! We must get what we need from his Lord so that we can continue to live our lives in this world with confidence and joy. That's what we are here to do."
Tim Keller Remembered for His Love of Jesus
Dr. Tim Keller was the founding pastor of Redeemer Presbyterian Church in New York City and the author of numerous books. He passed away on May 19 at age 72 after three years of battling pancreatic cancer. A dominant theme of the memorial (titled "A Worship Service of Praise to God for the Life of Tim Keller") was Tim's love for Jesus and how that love shaped everything about him.
In-person attendees and online viewers joined the service from all over the United States and the world. Hip hop artist Lecrae tweeted, "The @timkellernyc memorial today in NYC had a line wrapped around 50th and 5th ave. I met a man who flew from Ethiopia just to be there. What a testament to Keller's faithfulness."
"I love my father, so I find it fitting and in true Tim Keller fashion that he planned out his own memorial service for us this afternoon," said Michael to laughter from those in attendance. Tim and Kathy chose five of the hymns featured in the memorial, which also included comments Tim wrote during his cancer treatment to introduce each song. 
Various people affiliated with Redeemer read selected passages of Scripture, as did actor Max McLean, known for his adaptations of the works of C.S. Lewis and his portrayal of Lewis' character, Screwtape.
Graham Howell, who knew Tim Keller from Tim's time in Hopewell, Virginia, and Glen Kleinknecht, who met Tim in 1988 when the pastor was heading to New York, each gave remembrances. "He counseled us, married us, and buried us," said Howell. "[He and Kathy] shared their lives with us."