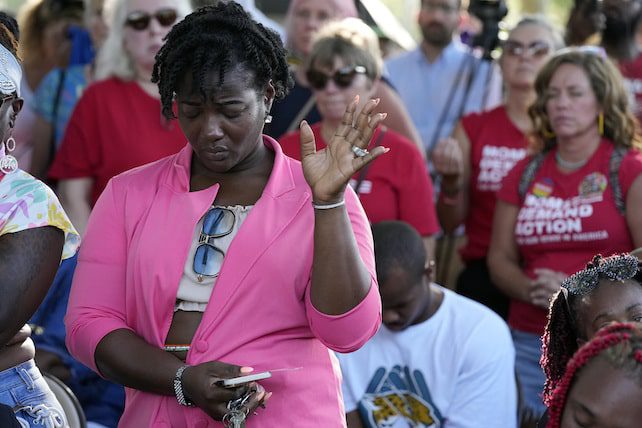 Three Black people were killed on Aug. 26 in Jacksonville, Florida, during what authorities say was a racially motivated shooting. After being turned away from a historically Black university, a 21-year-old white gunman opened fire Saturday at a nearby Dollar General store, fatally shooting one woman and two men before killing himself.
The Jacksonville shooting occurred as people gathered in America's capital to mark the 60th anniversary of the March on Washington and the Rev. Martin Luther King Jr.'s "I Have a Dream" speech.
On Sunday, Jacksonville residents and political leaders gathered to show unity and to pray for the community. Through tears, Mayor Donna Deegan told a crowd, "It feels some days like we're going backward." She admitted feeling "a sense of personal failure" about the violence. "We have to create a place and space for all of us to see each other's humanity, for us to meet each other where we are," Deegan said.
Jacksonville Shooting: Pastor Must Bury Another Murder Victim
Shooting victim Jerrald Gallion, 29, attended St. Paul Missionary Baptist Church in Jacksonville. He's the 33rd person from that church to be murdered during the 27 years that Bishop John Guns has presided there.
"In two weeks, I have to preach a funeral of a man who should still be alive," Guns told vigil attendees. "He was not a gangster; he was not a thug. He was a father who gave his life to Jesus and was trying to get it together." The bishop added, "I wept in church today like a baby because my heart is tired. We are exhausted."
At Jacksonville's St. Paul AME Church on Sunday, the Rev. Willie Barnes told congregants, "Our hearts are broken. If any of you are like me, I'm fighting trying to not be angry." His church held a special prayer service, with Barnes calling prayer "necessary today" but not the only thing people must do.
"Faith without works is dead," Barnes said. "We need to reach each other. We need to heal each other. We need to reach across the lines. We need to have integrated church services. We need to come together as a community." The pastor also encouraged people to commit to dialogue and "meaningful action" across all types of dividing lines "to really make our community more loving, just, equitable, safe, and the list goes on."
RELATED: Derwin Gray: Why Sunday Is Still the Most Segregated Time of the Week and What to Do about It
Jacksonville, Florida's most populous city, has a history of racially motivated attacks. Sixty-three years ago this week, Ax Handle Saturday occurred, with KKK members attacking young Black people who were protesting Jim Crow laws. The gunman in Saturday's attack at Dollar General reportedly referenced a shooting that occurred exactly five years ago at a video-game tournament in Jacksonville.
Jacksonville Shooting: Politics & Racism Enter the Debate
Florida Gov. Ron DeSantis, who is campaigning for the Republican presidential nomination, was initially booed Sunday at a vigil in Jacksonville. City Councilwoman Ju'Coby Pittman asked for calm, telling the crowd, "It ain't about parties today. A bullet don't know a party."
As governor, DeSantis has loosened gun laws in his state and fought against "wokeness." One recent controversial move involves new standards for teaching Black history in Florida. DeSantis, who called Saturday's gunman a "major league scumbag," said violence and race-based targeting are "unacceptable."
But State Rep. Angie Nixon, a Jacksonville Democrat, blamed the governor's policies. "We must be clear, it was not just racially motivated, it was racist violence that has been perpetuated by rhetoric and policies designed to attack Black people, period," she said at a vigil at St. Paul AME Church.