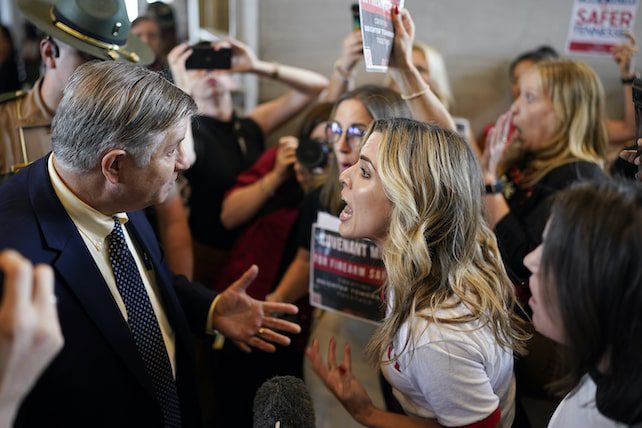 A contentious special session of the Tennessee General Assembly ended "in chaos" Tuesday, Aug. 29, with shoving between lawmakers and shouting by constituents. Some tearful parents chanted "Vote them out!" while others bowed their heads in prayer.
Following the March shooting at The Covenant School in Nashville, Gov. Bill Lee, a Republican, called the special session to focus on public-safety measures. But the Republican-led House and Senate took little action on gun-related bills. During the special session, which began Aug. 21, more than 100 bills related to public safety were introduced, but few passed.
Covenant School Parents Shocked by Lack of Legislative Action 
After a former student killed three adult staff members and three 9-year-old students at The Covenant School on March 27, parents formed two nonprofit organizations aimed at protecting children from gun violence. Parents have been praying, marching, holding signs, and testifying before legislative committees, demanding change to prevent future violence.
A group of parents met with more than 60 lawmakers, they said, trying to "sit down at the table with everybody in a respectful way" and "find meaningful solutions." But mother Sarah Shoop Neumann described the impasse between the State House and Senate as like being "caught in the middle of a Cold War."
When several Covenant School mothers spoke to reporters on Aug. 28, they expressed disappointment, shock, and frustration at the lack of progress. "We came into this [special session] thinking, 'Well, we're not going to get everything we want,'" said mother Melissa Alexander, a self-described conservative. "We endorsed several bills. But we didn't come into this thinking that [lawmakers] weren't going to do anything."
By "doing nothing," Alexander said, Tennessee's legislators show they don't care. "This lack of action is a choice they are making and speaks volumes about their lack of compassion and their priority of personal agendas over the people of Tennessee—even their own Republican constituents, including myself," she said Monday from the State Capitol.
Due to the many demonstrators, parts of the building were cordoned off. After a new sign ban was enacted, some protesters wrote messages about gun control on their clothing and bodies. Rep. Justin Jones, a Democrat who was expelled from the State House earlier this year, was "silenced" by lawmakers on Monday.
Families Are 'Still in the Trenches of Trauma'
The Covenant School mothers, who've spent hours at Tennessee's capitol, emphasized that "some of our friends will never see their children again" because of gun violence. Mary Joyce, a school parent, said students "are really struggling, and it's hard for them to talk about" the shooting. "To everyone else, you've moved on," she said, but "we are still in the trenches of this trauma."
As new classroom rosters were released for the upcoming school year, Joyce said, her daughter was crushed to realize her three murdered friends aren't listed. To legislators, Joyce had this message: "We're not leaving. You're gonna see these faces again and again. And we will use this time to learn from others who have been in this fight much longer than us."
Becky Hansen said her young son and his Covenant School classmates still experience panic attacks and "horrible nightmares" from the shooting. Through her lobbying work, she said, "It has been clear to me that several of these elected officials are not here to serve the people of Tennessee. They are here to serve themselves and to try and improve and increase their own power, not to do what is best for the people, and that is incredibly discouraging after all that we have been through."