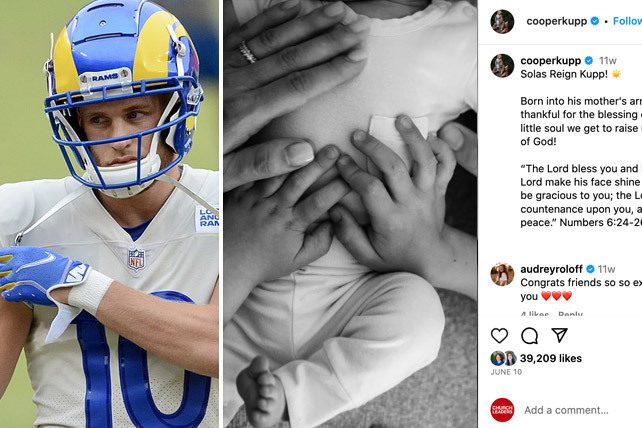 NFL star Cooper Kupp had an eventful off season, welcoming his third child. This summer, the L.A. Rams wide receiver, an outspoken Christian, celebrated the birth of son number three with wife Anna Marie.
On social media in June, the Kupps announced the arrival of Solas Reign, using a sun emoji next to his name, which means "light." Solas joins big brothers Cooper Jr., 4, and Cypress, 2.
Cooper Kupp, named MVP of Super Bowl XVI, had season-ending ankle surgery in 2022 but has said he's "feeling really good" about his rehab and return. The 30-year-old wide receiver missed some preseason activities with the Rams because of his new son's arrival. "I love these guys here," Kupp said in June of his teammates, "but I had to be with my family. I'm very glad to be back, but I have no regrets" about taking time off.
L.A. Ram Cooper Kupp on the 'Blessing' of aThird Child
The Kupps shared news of Solas' arrival with a black-and-white photo on Instagram captioned: "Born into his mother's arms, we are so thankful for the blessing of this third little soul we get to raise up into a man of God!" The post concluded with the words of benediction from Numbers 6:24-26.
The Kupps, who were high school sweethearts, have been married since 2015. Last year Cooper Kupp described the challenges of raising young children in an NFL family. He told People magazine that his wife has to bear "the brunt of the mornings" during the demanding football season.
In previous interviews, Kupp has credited his wife with making his pro football career possible. During their college years at Eastern Washington, Anna Marie worked full-time so Cooper could concentrate on the gridiron. In an Instagram post to celebrate their eighth anniversary in March, Kupp called his wife his "greatest feat and most prized treasure."
Cooper Kupp Prays To 'Be a Light in This World'
Last June, the Rams converted most of Kupp's $15 million base salary into a signing bonus. The standard move freed up more than $10 million in salary cap space for the team. When the deal was finalized, Kupp took to social media to thank the Rams for their "continued faith" in him. He expressed gratitude for ownership, coaches, teammates, fans, his family, and God.
Kupp said he appreciated his family's willingness to make sacrifices so he could "compete at the highest level." He continued the post by writing that "God is good," staying with him "every step of the way…on the mountains and in the valleys."