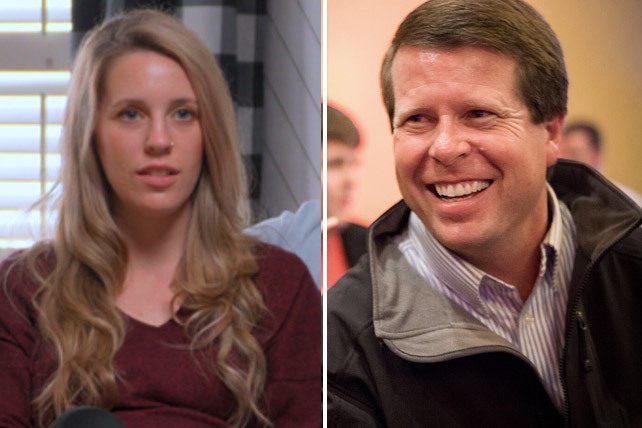 Ahead of next week's release of her debut memoir, former reality TV star Jill Duggar Dillard is revealing the "painful journey" of living in the spotlight. In "Counting the Cost," out Sept. 12, Dillard and her husband, Derick, say they have cut off contact with her father, Jim Bob Duggar, to protect their marriage and family.
RELATED: Jill Duggar Dillard Speaks on the Record for the First Time in New Docuseries From Prime Video
Jill Duggar Dillard, 32, married Derick in 2014, and the couple have three sons. She is the fourth of 19 children of Jim Bob and Michelle Duggar, the couple featured on "19 Kids and Counting" and its spinoff, "Counting On." The extended family is featured in the recent Prime Video docuseries "Shiny Happy People," which examines the Duggars' involvement with the conservative Institute of Basic Life Principles.
Jill Duggar Dillard Had To 'Join Forces' With Her Husband
In her memoir, Jill Duggar Dillard writes that filming the reality shows "began to feel like a burden" and obligation. Speaking to People magazine, she revealed that she and Derick wanted to step away from TV and have their own lives and schedules. Yet saying no to her father was difficult, she added, and the tensions took a toll on her marriage.
"No matter your age," said Dillard, "you are to obey your parents' wishes, and you even have to ask them for their blessing for any major moment in your life. That could be buying a house, moving to a different state, where to go to school. We were dealing with this a lot when we were trying to make decisions for our family, and we were really wrestling back and forth with it."
In addition to conflicts about whether to continue filming the show, Dillard said she and her husband fought with her father about compensation. She said she received just $175,000 for almost a decade of filming, and that came only after she and her husband hired an attorney.
Dillard estimated that her father received about $8 million from the TV shows. Speaking to People, she described being "conditioned to this belief that we were benefitting" from the show and having gratitude "so ingrained in me" that she didn't realize she should be compensated.
Dillard also claimed her father tricked her into signing a contract that included five years of various filming obligations. That included filming their wedding for TV one day before the official ceremony.
After the marriage, Jim Bob Duggar tried to "weaponize" the relationship, alleged Derick Dillard, 34. He said his father-in-law questioned whether Derick was being "supportive."
By that point, said Jill, she and her husband realized they had to "join forces" and "fight this battle together." That meant cutting off contact with Jim Bob, though the couple still occasionally sees his wife, Michelle, and the Duggar siblings.
Jill Duggar Dillard: 'God Has Begun To Heal Our Wounds Into Scars'
In a May 31 Instagram post announcing the memoir, Jill Duggar Dillard said it "details our painful journey as part of the reality-show-filming Duggar family." She listed "challenges… including lack of respect for boundaries, greed, manipulation, and betrayal," adding, "Thanks to time, tears, truth, and therapy, God has begun to heal our wounds into scars." Dillard concluded, "Though we would have never chosen this path, and it has cost us dearly, we want to use our voice to show others that there is hope beyond the pain."
For their part, Jim Bob and Michelle Duggar acknowledged that "few things are more painful than conflicts or problems among those you love." They said they have "aimed to deal honorably with our children, our finances, and our other endeavors." Beyond that, the couple declined to address family matters "in a public forum."