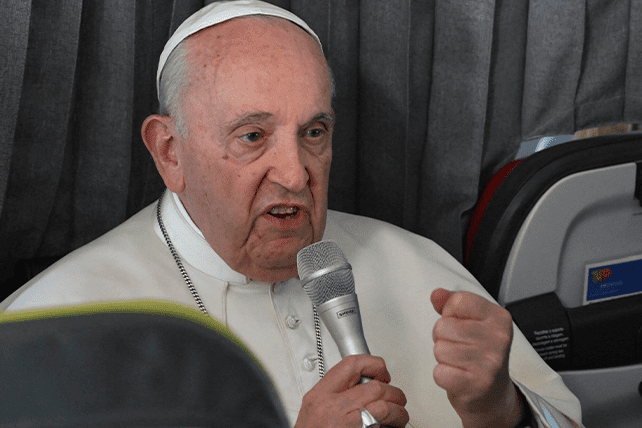 VATICAN CITY (RNS) — After a close aid to Ukrainian President Volodymyr Zelenskyy accused Pope Francis of being a Russophile and the Vatican of receiving Russian funds, the Catholic Church issued a statement denying the accusations on Sunday (Sept. 10).
"The IOR does not receive or invest money from Russia," read a statement by the Institute for Religious Works, using the Italian acronym IOR for the institution more commonly referred to as the Vatican Bank. "The IOR strongly rejects the allegations of the Councilor, according to whom the IOR would be investing Russian money."
The Vatican Bank insisted the institute only provides financial services to Catholic organizations and that it is held to the highest possible international standards.
"Any statements made to the contrary in the media are based on nothing and must, therefore, be considered as such," the statement concluded.
Mykhaylo Podolyak, a top adviser to Zelenskyy, called Pope Francis a "Russophile" in an interview on Ukrainian television Channel24 that aired Sept. 8. "The Vatican can't have any mediation role, because it would betray Ukraine and justice," he said.
Podolyak also stated that the Ukrainian government plans to "look into the Russian investments that are being made in the Vatican Bank" and promised to "study this more in detail."
Pope Francis has promoted peace in Ukraine after the Russian invasion in February of last year, but has stopped short of openly criticizing Russia and its leader, Vladimir Putin. Vatican diplomacy has been focused on attempting to build a bridge between the warring factions and to promote a lasting peace.
The pope sent a peace envoy, the experienced diplomat and Cardinal Matteo Zuppi, to visit Russian elites in Moscow and meet with Ukrainian leaders. The cardinal also met with members of the United States government, and the pope hinted that the next stop for Zuppi might be Beijing. While Zelenskyy has publicly thanked the Vatican for its peace efforts, especially in helping displaced children to reunite with their families and other charity work, he has also made it clear Ukraine is not interested in the pope's mediation offer and will seek peace "on its own terms."
A few diplomatic blunders have also hindered Pope Francis' chance to bring peace. In a message to young people in Russia in late August, the pope was quoted praising the great history and legacy of Russia, including Russian historical figures like Catherine the Great and Peter the Great, which was interpreted by some as a papal sanctioning of Russian imperialist aims.
Addressing those comments, Podolyak said that "it doesn't make sense to speak of Pope Francis as a mediator, if he takes on a Russophile position that is obvious to all."
"I was not thinking of imperialism when I said that," said Pope Francis, while justifying his comments aboard the papal flight returning to Mongolia (Sept. 4). "Maybe it wasn't the best way of putting it, but in speaking of the great Russia, I was thinking not so much geographically but culturally."