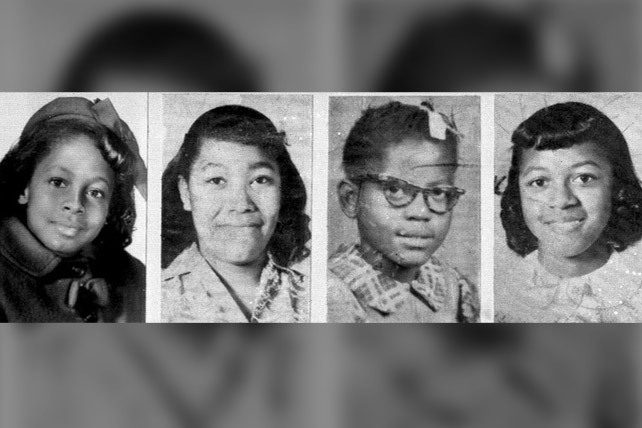 On the 60th anniversary of the bombing at the 16th Street Baptist Church in Birmingham, Alabama, Americans paused to remember the young victims of racial violence.
RELATED: Condoleezza Rice: 9/11 Shows Us How to Respond to This Crisis with Faith
Just two weeks after Martin Luther King Jr. gave his "I Have a Dream Speech," members of the Ku Klux Klan set off dynamite beneath the Birmingham church steps on Sept. 15, 1963. The explosion killed four girls who were freshening up before Sunday worship: Denise McNair, 11; Cynthia Wesley, 14; Carole Robertson, 14; and Addie Mae Collins, 14. Survivor Sarah Collins Rudolph, Addie Mae's sister, lost an eye in the attack.
More than 8,000 people attended the girls' funeral in Birmingham, America's most segregated city at the time. The 16th Street Church had been a frequent meeting spot for proponents of the Civil Rights Movement. Years later, three KKK members were convicted of the bombing.
Two other Black youths were also killed in Birmingham that Sunday: 16-year-old Johnny Robinson and 13-year-old Virgil Ware.
Birmingham Church Bombing: Justice Kentaji Brown Jackson Speaks at Memorial Service
At a memorial service for the Birmingham church bombing Friday morning, Supreme Court Justice Ketanji Brown Jackson emphasized the importance of remembering history. "If we are going to continue to move forward as a nation, we cannot allow concerns about discomfort to displace knowledge, truth, or history," said Jackson, the first Black woman on the U.S. Supreme Court.
"We cannot forget because the uncomfortable lessons are often the ones that teach us the most about ourselves," she added. "We cannot learn from past mistakes we do not know exist." Debates about teaching Black history have erupted across America, most notably in Florida, where Jackson grew up.
RELATED: Dr. Derwin Gray Condemns Slavery as 'Evil' With Regard to New Florida Standards
Jackson said her parents "intentionally set about teaching (Black history) to me as a young child." She said she knew that "four little girls, not much older than myself, had been murdered at church. I knew they were killed simply because they were Black."
Those girls could have someday become professionals—even judges—Jackson noted. "They could have broken barriers. They could have shattered ceilings," she said.
Remembering the Birmingham Church Bombing Victims
In an opinion piece at AL.com, John Archibald described the strident resistance to race "mixing" in 1960s Alabama. "Newspapers hemmed and hawed…politicians urged Alabamians to defy the courts, (and) preachers twisted words from the Bible to justify discrimination," Archibald wrote. And "Sunday school children at white churches sang 'Jesus loves the little children…red and yellow, black and white' while ushers stood guard to make sure sanctuaries were for whites only."