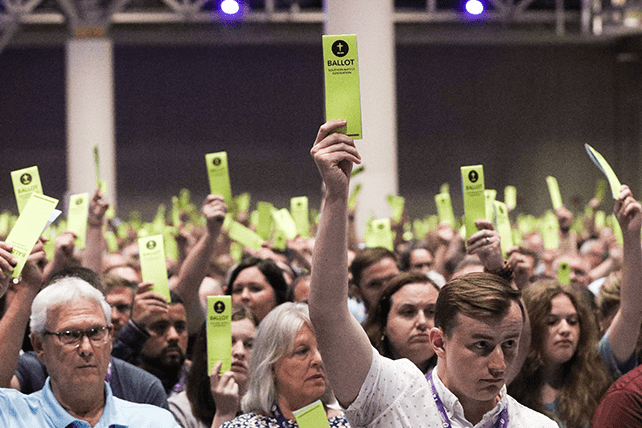 The Executive Committee of the Southern Baptist Convention has deemed Matoaka Baptist Church of Ochelata, Oklahoma, to be no longer "in friendly cooperation" with the denomination in light of the fact that the church's pastor, Sherman Jaquess, wore blackface at one church event and dressed as a Native American woman at another.
The SBC's Credentials Committee, which makes recommendations regarding the fellowship status of local churches, began investigating Matoaka Baptist Church after the Baptist General Convention of Oklahoma requested that the church's affiliation with the SBC be reconsidered "on the basis that the church affirms, approves, or endorses discriminatory behavior on the basis of ethnicity."
The Executive Committee said in a statement that the decision to disfellowship Matoaka Baptist Church was based "a lack of intent to cooperate in resolving concerns regarding discriminatory behavior on the basis of ethnicity."
In 2017, Jaquess posted a photo of himself to Facebook in which his face and hands were painted black and he wore an afro wig as part of his impression of Ray Charles. 
"I was playing the part of Ray Charles, and the guy next to me was playing Willie Nelson," Jaquess told Baptist Press. "My face was not black, but the flash on the camera made it look black. It was just brown. We sang the song, 'Seven Spanish Angels.' I was playing the part of Ray Charles. There wasn't anything derogatory about it."
RELATED: Dan Summerlin Changes Mind, Withdraws Name From SBC Executive Committee Interim President
The practice of blackface has long been understood to perpetuate bigoted and caricatured depictions of Black people.  
Jaquess also dressed as a Native American woman at a "Cowboys and Indians" night at a church camp. 
Jaquess contends that his decision to dress as a woman for the event wasn't drag because it "wasn't sexual." Jaquess also claims that his actions weren't racist because he is part Cherokee. 
The images recently went viral after they were uncovered by an online activist.
RELATED: The SBC Was a Train Wreck 100 Years Ago and Found a Way Through. Can It Do so Again?
"Their decision is repugnant," Jaquess told The Tennessean. "They made a decision and recommendation on something they don't know anything about."