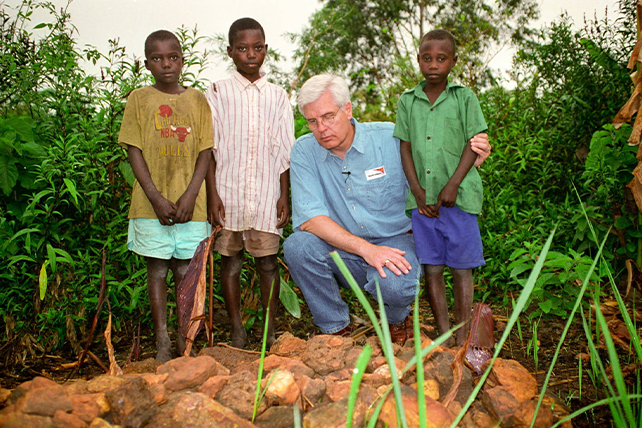 (RNS) — Like all organizations controlled by the U.S. Conference of Catholic Bishops, Catholic Relief Services opposes abortion in any form.
As the website of this 80-year-old humanitarian organization clearly states, CRS is "dedicated to preserving the sacredness and dignity of human life from conception to natural death."
But CRS and dozens of other faith-based aid organizations, many of whom oppose abortion,  now find themselves defending a U.S. program that has dramatically reduced the worldwide spread of AIDS from attack by erstwhile allies, a smattering of Republicans who claim that under President Joe Biden the program is advancing abortion rights.
Led by Rep. Chris Smith of New Jersey, these Republicans have thwarted the five-year reauthorization of PEPFAR, or the President's Emergency Plan for AIDS Relief. (The 45-day spending deal Congress agree to late last week extended existing funding levels for PEPFAR but reauthorization is still in question.) Since the program was created by President George W. Bush in 2003, Congress has always reauthorized PEPFAR with solid bipartisan support.
"Regrettably, PEPFAR has been reimagined — hijacked — by the Biden Administration to empower pro-abortion international non-governmental organizations, deviating from its life-affirming work," Smith said in a release.
The claim that PEPFAR empowers abortion came as a shock to many faith-based groups that partner with health care nonprofits overseas to combat AIDS.
"That is not something that we've seen or experienced in our work with PEPFAR," said Meghan Topp Goodwin, a senior policy and legislative specialist for Catholic Relief Services, which receives PEPFAR dollars.
PEPFAR has been considered the gold standard among U.S. global health initiatives and is credited with saving the lives of 25 million people by providing antiretroviral drugs to AIDS patients in more than 50 countries. The program has funded clinics, provided testing centers and encouraged preventive measures — all of which have measurably reduced the spread of AIDS.
Faith-based organizations, critical to PEPFAR's functioning, are confounded that a program with such a proven track record of success could now be at risk.
"It literally makes no sense," said Doug Fountain, executive director of Christian Connections for International Health, a global network of more than 100 faith-based organizations that provide or advocate for health and humanitarian aid abroad. "There's no way that abortion is going to play a part in foreign, domestic or foreign assistance. It's just not even feasible."
A number of laws prohibit the use of U.S. taxpayer dollars to promote or procure abortions overseas. There's the Helms Amendment, signed into law almost 50 years ago, that prohibits foreign assistance from paying for the performance of abortion. There's also the 1981 Siljander Amendment that prohibits the use of funds to lobby for or against abortion in foreign operations.
The assault on PEPFAR began in May with a report by the conservative Heritage Foundation warning that the Biden administration was using the program to promote a "radical social agenda" — including abortion.