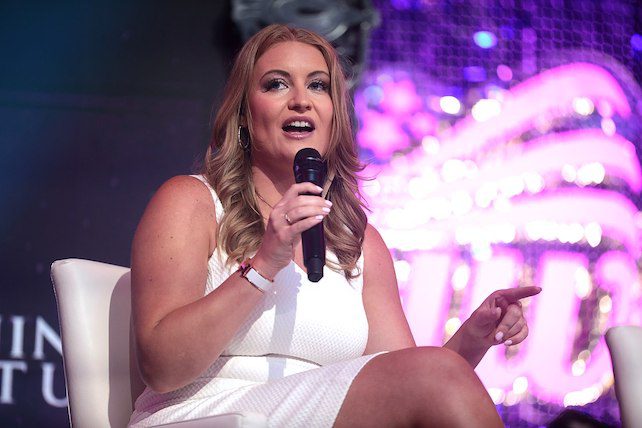 On Tuesday (Oct. 24), former Trump campaign lawyer and outspoken Christian Jenna Ellis became the fourth person to accept a plea deal in Georgia's election-subversion case. In exchange for pleading guilty to one felony count of aiding and abetting false statements and writings, Ellis will avoid jail time.
Her sentence includes five years of probation, $5,000 in restitution, and 100 hours of community service. The lawyer, podcast host, and frequent Fox News guest also must cooperate with prosecutors and avoid posting about her case on social media until all the Georgia cases conclude.
Jenna Ellis on Being a Christian
Ellis, an evangelical Christian who's been involved in several high-profile cases involving religion, briefly addressed the judge in an Atlanta courtroom Tuesday. "As an attorney who is also a Christian, I take my responsibilities as a lawyer very seriously and I endeavor to be a person of sound moral and ethical character in all of my dealings," she said, at times becoming emotional. "In the wake of the 2020 presidential election, I believed that challenging the results on behalf of President Trump should be pursued in a just and legal way."
Ellis, 38, said she "relied on others," including more experienced lawyers on the team, "to provide me with true and reliable information, especially since my role involved speaking to the media and to legislators in various states." In her prepared statement, Ellis admitted she should have verified "facts that the other lawyers alleged to be true." Instead, because of the "frenetic pace" of raising post-election challenges in November 2020, she "failed to do my due diligence."
During Tuesday's unscheduled hearing, Ellis told Judge Scott McAfee, "I believe in, and I value, election integrity." She added, "If I knew then what I knew now, I would have declined to represent Donald Trump in these post-election challenges. I look back on this whole experience with deep remorse." Ellis concluded by taking responsibility and apologizing to the citizens of Georgia.
Last month, Ellis was censured by a disciplinary judge in Colorado, where she is licensed to practice law.
Jenna Ellis: 'God Is God All the Time'
In August, when Ellis was charged with violating Georgia's anti-racketeering act, she invoked her faith. "The Democrats and the Fulton County DA are criminalizing the practice of law," she posted on social media. "I am resolved to trust the Lord and I will simply continue to honor, praise, and serve Him." Trump critic George Conway responded, "I don't know about you, but I plan to honor and to serve the Lord today by not engaging in any racketeering conspiracies."