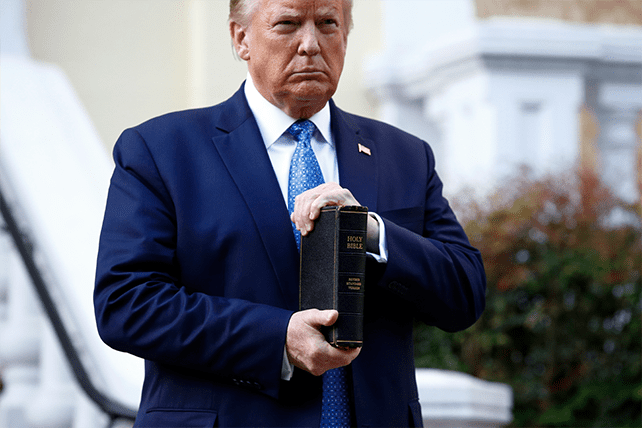 As former president Donald Trump's re-election campaign continues to ramp up, so has the spiritual language that surrounds it—both from the lips of Trump himself as well as from evangelical leaders who continue to preach that he is divinely anointed. 
Evangelical support for Trump has been remarkably resilient since 2016, despite the former president's myriad moral failings and legal woes. 
In May, Trump was found liable by a New York jury for sexually abusing advice columnist E. Jean Carroll in 1996. Additionally, he has been indicted four times since leaving office for alleged offenses that include the mismanagement of classified documents, election interference, illegal use of campaign funds to bury allegations of extramarital sexual encounters, and tax fraud.
Earlier this week, Jenna Ellis, who worked on Trump's reelection legal team, became the fourth co-defendant in Trump's Georgia election interference case to accept a plea deal. In her statement to the judge, Ellis said, "As an attorney who is also a Christian, I take my responsibilities as a lawyer very seriously." However, Ellis went on to say that she failed to do "due diligence" when it came to the false claim that the 2020 presidential election was stolen.
Trump has still never publicly admitted to losing the election. 
Nevertheless, evangelical support for Trump not only remains strong but also carries religious overtones. This was recently illustrated by a viral social media post featuring a courtroom sketch of Trump seated next to Jesus. 
Trump was also the subject of conversation on a recent episode of the Jim Bakker Show. During the episode, the infamous televangelist interviewed Lance Wallnau, author of "​​God's Chaos Candidate: Donald J. Trump and The American Unraveling."
Wallnau recounted releasing "God's Chaos Candidate" in the fall of 2016, within mere weeks of the leak of an "Access Hollywood" tape in which Trump could be heard joking and bragging about sexually assaulting women. 
Wallnau admitted that "in the natural this would do Donald Trump in," but said that God allowed the video to be released so that "Donald Trump would be humbled before his promotion."
RELATED: Will Trump's Latest Indictment Hurt Him With Evangelical Christians? Probably Not.
Wallnau went on to take credit for rallying evangelicals to vote for Trump, leading to Trump's election to the presidency in 2016. Bakker likewise took credit for Trump's 2016 win, saying that his endorsement of Trump made the difference.