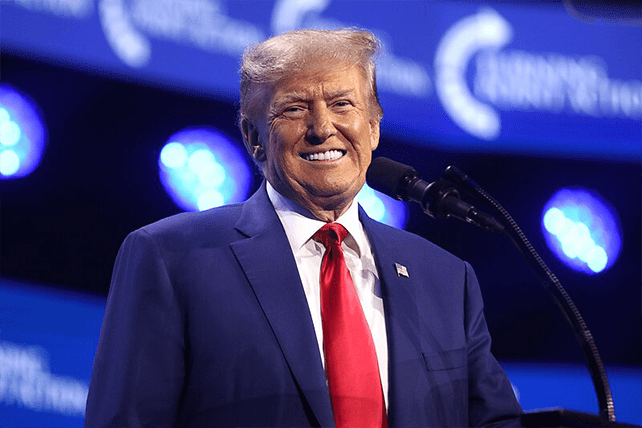 As the civil fraud trial of former president Donald Trump continues, many of his supporters have taken to social media to express their support. 
And as has been the case throughout his tenure as a political figure, much of that support has been cloaked in Christian language and imagery. In some cases, that imagery has even become somewhat bizarre. 
Trump and other members of his organization have been accused of fraudulently inflating the value of their assets to obtain favorable loans and insurance deals in a civil suit brought by New York attorney general Letitia James. 
Nevertheless, to many Trump supporters, this trial is representative of a spiritual attack on the former president. Further, since two of Trump's sons are his co-defendants, it is a spiritual attack on the entire Trump family.  
On Oct. 2, Dom Lucre, a popular right-wing figure on X (formerly Twitter), posted an illustration of Trump sitting in a courtroom. Sitting beside him was none other than Jesus Christ. 
"This is the most accurate court sketch of all time. Because nobody could have made it this far alone," Lucre wrote.
The post received over 6,600 reposts and more than 2,700 replies, a great deal of them supportive. Perhaps the most common response was, "Amen." 
Later, Lucre revealed that Trump himself has posted a screenshot of the post to Truth Social. 
While the image of Jesus sitting beside Trump in court has gone viral, it is worth noting that this type of iconography is nothing new in the world of online evangelical Trump supporters.
For example, one popular print features an image of Trump seated with Jesus standing behind him, his hands on Trump's shoulders. In the image, Trump reaches up to place his hand on Jesus'. A 2017 viral image features Jesus embracing Trump in the Oval Office.
RELATED: Christian Leaders Respond to Trump Indictment With Prayer, Criticism, Confusion
Throughout his political career, white evangelicals have been Trump's most faithful supporters and defenders. This support persists despite his recently being found liable by a New York jury for sexually abusing advice columnist E. Jean Carroll in 1996 and his waning support for the pro-life cause. 
This is the most accurate court sketch of all time. Because nobody could have made it this far alone. pic.twitter.com/vH1KgFk14q

— Dom Lucre | Breaker of Narratives (@dom_lucre) October 2, 2023