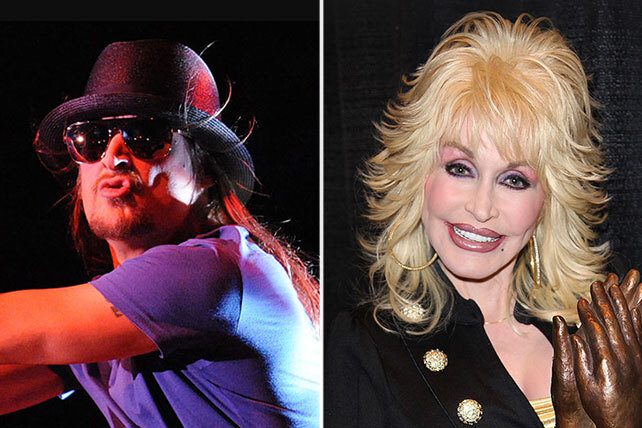 Music legend Dolly Parton has defended her decision to collaborate with Kid Rock on her forthcoming album, saying that she loves and forgives everyone just as God does. 
"I love everybody. I don't criticize, I don't condone nor condemn," Parton told The Hollywood Reporter (THR) in an interview on Nov. 2. "I just accept them. But anyhow, just because I love you don't mean I don't love Kid Rock in that God way."
RELATED: Dolly Parton Points Viewers to Jesus, Tells the Devil To 'Go to Hell' in Star-Studded Christmas Special
Dolly Parton To Release New Album, 'Rockstar'
Dolly Parton is a country music star and one of the bestselling female artists of all time. During a career that spans more than five decades, she has received numerous awards and accolades. Parton is also an actor and is known for her Dollywood theme park and philanthropic efforts. 
The singer was recently invited into the Rock and Rock Hall of Fame, an honor she initially declined because she is a country music singer. However, she accepted after learning that the Rock and Rock Hall of Fame includes artists outside of the rock genre. "But I still didn't feel great about it," she said. "I still thought I needed to earn it."
So Parton created her first rock album, "Rockstar," which will release on Nov. 17. The album features a star-studded list of collaborators, including Sting, Lizzo, Steven Tyler, Stevie Nicks, Miley Cyrus (Parton's goddaughter), Pat Benatar, Paul McCartney, Ringo Starr, and Elton John. 
Track seven on the 30-track album is a duet between Parton and Kid Rock titled "Either Or." When fans found out about the collaboration, a number of them criticized Parton for working with Kid Rock.
Kid Rock is the stage name of Robert James Ritchie, a rapper and country rock singer who rose to fame through his fourth album, "Devil Without a Cause." Ritchie is known for hits including "Cowboy," "Bawitdaba," "All Summer Long," and "Picture," a duet with Sheryl Crow. He is reportedly an ordained minister and is known for various controversies including arrests for assault and substance abuse, displaying a Confederate flag during his concerts, and using homophobic slurs.
Notably, Parton has a substantial gay following and is known for her support of the gay community. "I have some of everybody in my own immediate family and in my circle of employees," she told The Hollywood Reporter. "I've got transgender people. I've got gays. I've got lesbians. I've got drunks. I've got drug addicts—all within my own family. I know and love them all."