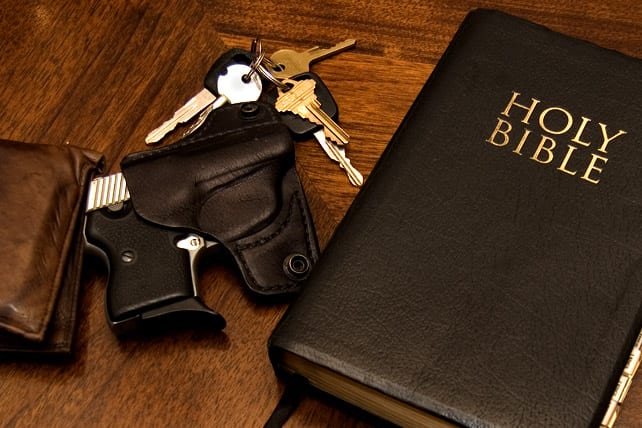 After the tragic events in Sutherland Springs, Texas, on Sunday, everyone's attention is on security in churches. Whether you pastor a church, attend a church, or know someone who attends church, the question of whether to allow firearms at church—either in the possession of security guards or laypeople—has crossed your mind.
However your church chooses to answer this question, it will need to be addressed. The last thing you need is someone showing up to your church with a firearm he or she is not properly trained to handle.
It's a hard question to address for faith leaders. The Christian tradition has birthed some of the most effective and counter-cultural nonviolence movements throughout history, yet here we are in the wake of terrorism against Christians and mass shootings that occur in the most unsuspecting of congregations. It's a situation where the phrase "Fail to plan—plan to fail" comes to mind.
Those in Favor of Guns in Church
Brady Boyd, pastor of New Life Church in Colorado Springs, Colorado, shares the security measures his church has adopted, both before and after the shooting that occurred on their property and took two of their members' lives 10 years ago.
First, every church should hire at least one uniformed police officer to be visible in the main lobby and parking lot. Every Sunday, there is a police car parked in front of our church. These off-duty officers are paid by us to be present. They are now our friends and we see them as part of our vital team each weekend. Most crime studies show that criminals can be deterred by the physical presence of the police on property. If local police are not available, hire a very visible security guard…
Because we live in a military town, we're able to recruit and train dozens of men and women to serve our church as volunteers. They spend all week protecting our nation and they love serving their church the same way. They dress in plain clothes, but walk the property during our worship services, serving our people.
We live in a state that allows most people to carry concealed weapons and to carry openly if they choose. We discourage our members from bringing guns into the church. In fact, if we know someone has a weapon, we escort them out to their car and watch them put it away. We have plenty of trained and qualified people who are appropriately armed, so extra weapons are not necessary and can actually cause more harm should there be a violent episode.
Pastor Shannon Talley of McAllen First Baptist Church in Texas is being proactive about firearms in his congregation, putting a plan in place so that church members with concealed handgun licenses know who else may be carrying. "We are putting that into place so our concealed-carry people know each other, but we are also setting things up to where they're located strategically throughout the auditorium in the services that we have," Talley told KRGV News.
Those Opposed to Guns in Church 
Not everyone is in favor of such an approach. Churches fear an armed presence may take away from the sense of sacred space that churches are known for. Reverend Dawn Frankfurt of St. James Episcopal Church in Wichita, Kansas, says "I think Christianity is a non-violent religion," and therefore does not encourage her congregation to carry. She does, however, employ armed security guards.
Speaking to the Christian Chronicle a couple years ago, Patrick Barber with East Point Church of Christ in Wichita, Kansas, understands the complexity of this question. However, when it comes to bringing guns into the church, he offers a couple more questions: "Would Jesus stand up for the innocent? Certainly. Would he kill someone to protect the innocent? I'm not so sure."
Dahleen Glanton, a Chicago Tribune columnist, questions the practicality of using a handgun versus the assault rifles most mad gunmen use: "A handgun would have been as powerless in Sutherland Springs as it would have been against Dylann Roof's .45-caliber semi-automatic pistol and the arsenal of magazines and hollow-point bullets he used to kill nine people during Bible study at Emanuel AME Church in Charleston, S.C., two years ago."
Before you make a decision about guns in your church…
Be sure to check laws on guns in your particular state. For instance, churches in Texas were given permission to extend their conceal carry rights into houses of worship earlier this year, while churches in South Carolina do not allow people to bring their guns without "express permission." Whatever your church decides, it must adhere to the law of the land.
Russell Moore, president of the Ethics and Religious Liberties Committee (ERLC), affiliated with the Southern Baptist Church (SBC), raises the question most of us are thinking: What does the Bible say about bringing my gun to church? Moore responds, "I don't think there is a gun control policy outlined in scripture. There is a commitment to human life and to the protection of human life, but I think Christians can disagree on what the specific policies ought to be to get there."
Whether you allow guns in your church or not isn't something to take lightly. Pray about it, consider it with your elders, look to Scripture for direction, consult subject matter experts, do the research on the law of the land, and make a decision. Pastor, whatever you decide, you must do this: Communicate your church's policy. If you allow guns, you need to talk to your parishioners about what is permissible and what is not. If you do not allow guns, you need to make this clear.
Please do not let lack of communication put your congregation in jeopardy.