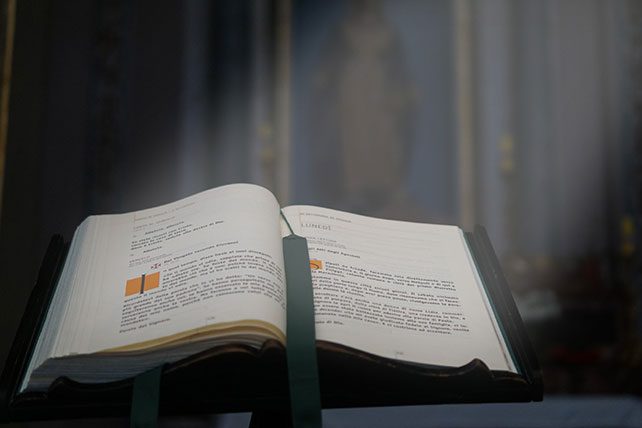 I grew up in a tradition where you could say that there was no emphasis put on liturgy at all, at least not a formal liturgy. But we all follow a liturgy. Whether it has come from hundreds of years of tradition or it's just from how we are feeling as we put together service elements, we all operate with a plan, and that is what a liturgy is—a plan. And here's why liturgy is important for the church's outreach.
Over the years I have come to realize that liturgy, or the plan, is important. Whether you are in the "let the Spirit lead" camp or you have your liturgy written out for you from a book, you know that a plan is important, it is what scripture calls for (1 Cor. 14:40). Liturgy, no matter how loose or tight, provides us with a framework. For years my liturgy consisted of a fast song, a medium song, a slow song, the sermon, a slow song, a medium song, a fast song. It was an emotional liturgy, if you will. Some weeks our service still looks like this, the only difference is that now there is intentionality because we have developed a plan.
Why Liturgy Is Important in Outreach
Liturgy helps us tell the Gospel story
It seems to me that this is becoming a pretty common theme with many pastors and worship leaders. We have taken the major movements of the Gospel story (creation, fall, redemption, restoration), and have begun basing the way we plan our services on those movements. It is nothing new, the church in one way or another has been doing this for hundreds of years. If this is a new thing to you then this is a great place to start. How can you take the congregation on a journey through this story from the beginning of your service until the end? How can you highlight one of these movements? Our aim must be to tell the Gospel story in our services, not just in the sermon or invitation. How can you use liturgy to do this?
Liturgy helps us plan intentionally
If you adopt even the simplest liturgy it gives you a target at which to aim. If you don't choose any structure at all, services and events can become stale or seem as if they never really "come together." When you seek to plan intentionally with a liturgy it gives you a basic form that you can deviate from without feeling like you have no base. It also allows you to elevate certain elements of your liturgy from week to week as they may go with the text that is being preached. One reason why liturgy is important is if we don't plan with the Gospel always in mind we run the risk of trying to tell our own story and meeting our own needs instead of submitting to God's story and allowing Him to meet the needs only he can.
Liturgy helps helps with discipleship
Liturgy is a great way to teach your congregation about who God is and what He has done. Take confession for instance. If there is an intentional time of confession built into your liturgy then it allows for everyone at the same time to learn the beautiful truth of 1 John 1:9-10. It also reminds us that confession is an act meant for the body as a whole as James 5:16 reminds us. With certain songs, readings and other elements, you can teach on the atonement of Christ, the indwelling of the Holy Spirit and the sovereignty of God the Father. You can even teach about the crazy mystery of the Trinity through your liturgy (I would encourage you to do this as much as possible!).
If you aren't familiar with working with a liturgy, or with people who may not understand why liturgy is important, I encourage you to start slow and introduce small changes. Talk with your lead pastor and other pastors/leaders who are involved with worship planning and seek the Lord together on how He would have you plan your worship services. Two good resources on liturgy are Christ-Centered Worship by Bryan Chapell and Rhythms of Grace by Mike Cosper. Above all, seek to exalt Jesus as you plan in such a way that puts Him and His deeds at the center of all your worship.
This article on why is liturgy important originally appeared here.