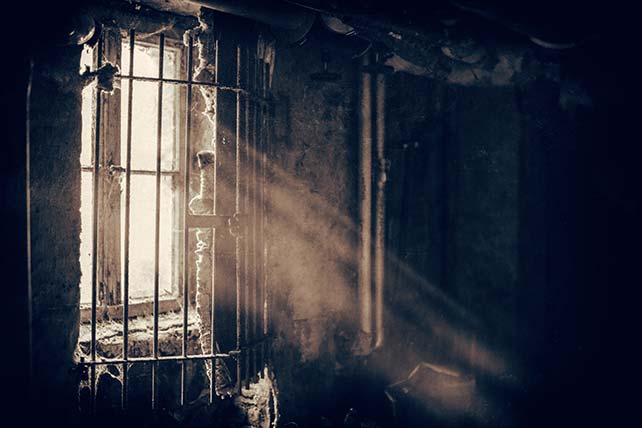 Rebecca Brooks left Michigan's Allegan County Corrections Center in 2016 with a mental to-do list that was three items long:
Find a place to stay.
Get a job.
Reconnect with the chaplain of the jail from which she just had been released.
Six weeks later, she'd checked them all off. Now she and her eight-year-old daughter are regulars at the church that the chaplain from the jail launched in October 2016. "It's family," Brooks says. "It's where I want to be."
Sarah Lindstrom, a minister in the Reformed Church in America (RCA), spearheaded the planting of this church focused on people who've been released from incarceration. As a chaplain at the Allegan County Corrections Center, she is tuned in to how hard it is for folks who've been drawn to faith while in jail to find a church home on the outside.
"There's something that comes with the label of 'felon' that's scary. You hold your purse a little bit tighter. To break through that in an existing congregation would be very, very difficult," she says. "How different the world would be if grace were to abound in those situations. Instead of letting their past define them, what if we looked at one another and saw sons and daughters of the risen King rather than a label the world has put on individuals?"
In the meantime, there's Rectify Church (RCA) in Allegan, the small southwest Michigan county seat that shares its rural county's name. Some in the Rectify congregation have done time. Others feel called to support them, sometimes because their own families have been affected by incarceration. Lindstrom chose the name because rectify means "to restore, to make something right again."
Each Tuesday, dozens of people gather for an evening patterned on the Book of Acts: They break bread together, and then they worship. They hold one another's kids. They joke around. Some boogie a bit with the praise band. They voice their own reflections after the message is preached. They pray.
And the rest of the week, they help each other track down apartments and used cars, and "call one another out" if old habits are getting the better of someone's best intentions.
As Lindstrom puts it, they'll "clean you up, pick you up, and say, 'OK, let's give this another try.'"
"If you feel like you're outcast, this place can fill in what you can't do for yourself. I've bounced around plenty of churches. This is the only one I felt loved me no matter what," says Brooke McDaniel, who did time at the Allegan jail and participated in a program Lindstrom leads there. McDaniel sang for a while in Rectify's praise band, which also plays at other churches as an outreach, but she stepped down when she began a year-long beauty college program this spring. "I've had a lot of fails. I'm looking for accomplishments now," she says.
Like many church planters, Sarah Lindstrom is bivocational—but her vocations are so closely linked they may appear seamless.
Since 2015 she's been the full-time chaplain of the county jail. Her employer is Forgotten Man Ministries, which provides chaplains and volunteers in 34 county jails in Michigan. (There and in some other states, the state budget covers chaplains only at state prisons.)
She is also the part-time pastor of Rectify Church. Congregational giving and RCA grants contribute to her compensation there.
Her journey to these ministries started years ago with visits to a friend at a bleak federal prison. They inspired her to volunteer at a state prison while she was earning her M.Div. at Western Theological Seminary.
During her first pastoral job, she wrestled with how a congregation should minister to people recently released from jail. She became convinced that conventional churches aren't prepared to meet those people's needs. God gave her a vision in a dream, she says. She prayed for clarity.
Then came some critical connections: She met a Forgotten Man Ministries volunteer, and later, Tim Vink, senior church multiplication strategist for the RCA—a point person for church planting. "He said, 'I think you're supposed to start a church.' I went out to my car and I cried, because it was such affirmation," Lindstrom says.
By then she was chaplain at the Allegan County Corrections Center, where everyone arrested in the county is booked. Some are jailed there awaiting trial or sentencing. If sentenced to a year or less, they serve their time at the county jail. Drugs or alcohol are associated with most people's cases, Lindstrom says.
As chaplain, she was establishing discipling relationships with new Christians, wishing them well as they were released, and then sometimes seeing them back behind bars a few months later.
"Support in the community is important to help them break old habits," she says. "The main thing with the folks that we deal with, especially if they have an addiction, is they have to leave their old friends behind—not only friends, but sometimes family. That's a big one that's sometimes hard for people to do."
In late 2016 she and some volunteers started a weekly gathering in a local church's multi-activity center. "At first, everyone who came knew Sarah. That's changed. Now the word is on the street," says Sally Burgess, who volunteers with an anger management group at the jail. She and her husband, Vern, have been involved in Rectify from the beginning
Rectify became an official RCA church plant in January. An RCA church planting residency supports its ministry. Early this year, it also moved to its current location roughly midway between the jail and downtown Allegan. It shares space with The Bridge, another fairly recent RCA church plant.
The RCA has a number of prison ministries—in Ionia, Michigan, and Yankton, South Dakota, for example. But Rectify Church is the only one of its kind in the RCA. That may change. Vink anticipates that within a few years, Lindstrom will help others launch new churches on the model she continues to fine-tune in Allegan. When the RCA supports a church plant with grants and training, the new church commits to replicate within seven years. "We're so grateful she had the resilience to press through," Vink says.
In many respects, Rectify is like other churches: chili at the potluck, praise music and prayer requests during worship, and a message followed by strong, purposeful prayer.
In other ways, its unique identity is clear. Preaching one evening this spring on 1 John 3, Lindstrom lingered over Cain and Abel's story in verse 12. She spoke about bitterness, old wounds and defensive barriers—things people struggle with after release from incarceration. The world may not change, she told the congregation, but we can change the way we process things. "God is the author of clarity and peace," she said.
When her sermon ended, she strolled around the sanctuary handing the microphone to others. "What does it mean to love somebody through a lens of dignity, honor and respect?" she asked. "I want to hear what you have to say."
People at Rectify Church have a lot to say. They're straightforward about their struggles. Over dinner, someone may tell you matter-of-factly that they used to run a meth lab in their van, or hustled for a while for gas money so they could visit their kids.
"The beautiful thing about people who've been incarcerated is they get real honest real fast. They don't wear a mask. What you see is what you get," Lindstrom says.
"I may only get to see somebody once," she continues. "There's a sense of urgency. This might be the only time I get to speak life into this person. There's a boldness about speaking truth in love. I love that. I think that's what we're supposed to do every day."
PRAY
Ask God to give people recently released from incarceration the support and love they need to reenter the community and live out God's call for their lives. Pray for Rectify Church to be the start of a movement of church plants that can offer people who have been incarcerated a new home in Christ.
This article originally appeared here.