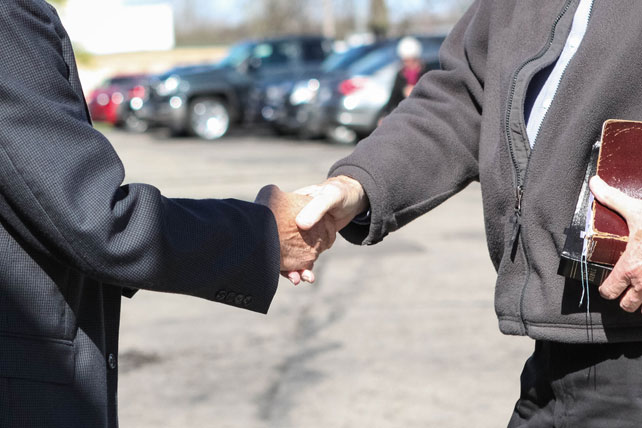 The guests showed up to your church worship services, but they never returned. Has that ever happened in your church? You speak with someone who is visiting for the first time. You try to be friendly. But you never see them again. At times you wonder why they never returned.
I just read Greg Atkinson's new book, Secrets of a Secret Shopper. What made Greg's book stand out from similar books is his vocation? His ministry includes going into church worship services and reporting back his experiences to the church. He is a secret guest! So when I read the book, I knew I was hearing directly from someone who had been there and done that.
There is no way I can cover all the insights for church worship services I gleaned from this book in a single blog post. Allow me, then, to address the key lessons I saw as vital for your church worship services.
5 "Secrets" For Our Church Worship Services
1. There are four points of first impression before the guests ever enter the church's building.
They are, in order, social media, mobile site, website and the parking lot. How much attention is your church giving to these four areas? How many potential guests never show up because of the first three?
2. Parking is not only a first impression issue; it is a potential growth lid as well.
Greg, citing Tim Stevens, notes three clear growth lids. The first of the three is parking. If guests have difficulty finding a parking spot, they may decide not to come to church at all. I have actually seen this reality when I was a church consultant.
3. The children's area is a critical growth lid.
Families will not return to your church if they perceive a room is too small, if the children's area is understaffed, or if the area appears unclean and unsafe.
4. The 80 percent rule still applies to seating as a lid.
While 80 percent is really more of a guideline than a rule, it still applies to worship seating. For example, if your church worship center has a capacity of 300, it will probably be perceived full when 240 people are attending.
5. Greeters gathered together talking to one another may be less effective than no greeters at all.
If the greeters are in a holy huddle talking to one another, they give the appearance they are cliquish and not focused on the guests. Greeters in the parking lot need to spread out. There does not need to be a greeter receiving line of handshakes at the entrance.
Keep in mind that guests are often uncomfortable and uncertain when they first visit your church worship seervices. Many of them are not believers. Atkinson's book provides great lessons and poignant reminders of how we in our churches can better practice the ministry of hospitality.
This article about church worship services originally appeared here, and is used by permission.