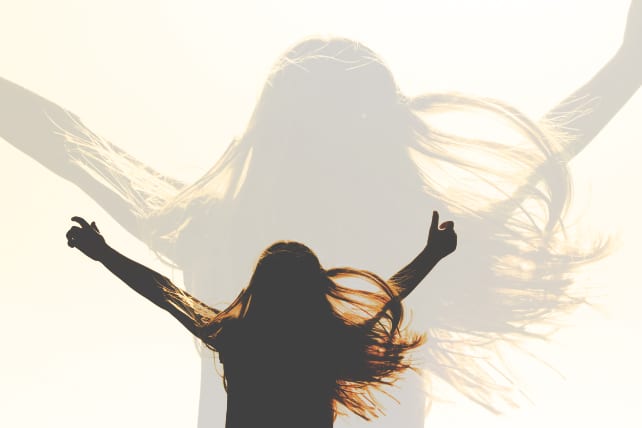 The past few months have been some of the darkest I've experienced in years. l had expected the fall of 2017 to be full of joy and celebration as Museum of the Bible opened, a project I've been invested in for nearly eight years. But along with the great joy from this season, it's been full of pain. And it's hit on many levels.
The past two months have brought personal medical issues (infertility), a family member's death, broken trust in close relationships, personal attacks and many close friends experiencing their own tragedies, all the while as l am trying to keep up with my full-time job, a PhD work load on nights and weekends, and co-writing my first book with my mother. It's a season that's brought back panic attacks, heartache, doubt and insecurity. It's also a season l feel God's presence more than l have in a long time. It's driven me to His Word, and to prayer.
In the midst of this season, one night l was supposed to go to an award ceremony in the evening to receive an award along with dozens of other recipients. l actually hadn't told anyone about the award except my mom and husband. The day of the award ceremony turned out to be one of the more difficult days because of events that transpired. Those difficult events caused me to feel unable to get to a place where l could get out and go to this award banquet.
My husband, Michael, was out of town, but a few friends knew what was going on. As I got home from work, my sister (in-law) and a close friend from my community group showed up at my door with listening ears, my favorite snacks, flowers and a candle. (My sisters live on opposite coasts, and had told these friends what my favorite things were.) They spent hours with me, just listening to me and loving on me.
That same week, l was in church during the worship time when my best friend came over to just wrap her arms around me tight and l just began to cry. No words were necessary. She knew she couldn't make it better, but she could be present.
So, you get the idea: It has been a season with varying levels of suffering. I've been broken, and it's been difficult.
This is not a post for sympathy, or a "poor me" attitude. No, this is a "me too" because l know I'm not the only one who has felt weary.
Through it all, l rest in the words "it is well."
In the midst of the storm, l am acutely aware of where my hope lies. Can you believe that our hope is not in our circumstances or even in this life? What a gift. Our hope lies beyond the grave, and in Christ. The author of Hebrews says that it was "for the JOY that was set before him (Christ) endured the cross" (Hebrews 12:2, italics mine).
How could Christ have possibly had any measure of joy before him in enduring the horrible death on the cross? It's because His hope was in what was beyond the cross. And for those of us in Him, our hope is the same. Someday every tear will be gone and every broken thing redeemed for those of us that know God through His Son. That is my hope.
Yes, l am human, and l will grieve, cry, vent and take time to heal. But the hope from Christ makes the season sweet. l love the way it's brought me closer to Him. l love that it's been a process of stripping away the things l places my identity in so that all l have left is Christ. l love that it's made me grateful for the many small joys l see every day. And l love that its allowed me (OK, forced me) to experienced grace from my husband, sisters, closest friends and my church community group.
A season like this gives me greater appreciation for the words of Horatio Spafford who wrote these lyrics after losing his four daughters in a shipwreck:
"When peace like a river, attendeth my way,
When sorrows like sea billows roll
Whatever my lot, thou hast taught me to say
It is well, it is well, with my soul"
Indeed, because of the cross, it is well with my soul. 
This article originally appeared here.