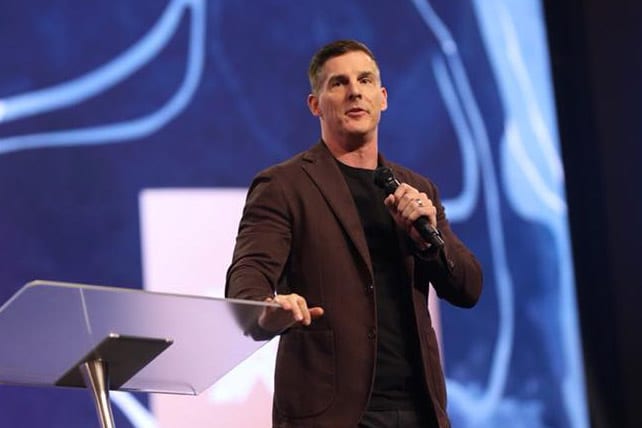 Craig Groeschel leads the largest church in the country, but he doesn't like to dwell on Life.Church's size. In an interview with The Oklahoman, it's apparent he's done some unconventional things that have led to unprecedented growth.
"We're grateful for the growth God has blessed us with, but hesitate to put too much weight on it or to talk about it publicly," Groeschel told The Oklahoman.
Throughout the interview, Groeschel identified four things Life.Church did as it grew—whether these were intentional decisions to spur growth or not is unclear, but these tactics certainly worked for them.
The Multi-Site Platform
Life.Church was potentially the first major church in the U.S. to use an approach we now recognize as multi-site, and according to Groeschel, it wasn't premeditated. He says once the church grew beyond its seating and service time capacity, someone had the "crazy idea" of meeting in more than one location. Groeschel recalls traveling across town each Sunday to lead the services at multiple locations. However, his son's birth, which occurred on a Saturday evening, caused the church to reconsider the in-person multi-site approach that they could no longer sustain. Groeschel says a video recording of the sermon from Saturday night broadcasted to the subsequent sites the next day "worked surprisingly well" and the church adopted this newfound approach later that year.
Measuring Success by Service
Groeschel articulates a question every pastor—of small and large churches alike—faces when asked about the "success" of his or her church. "How do you accurately gauge if people are growing closer to God?" Groeschel ponders. His question is refreshing in light of the last few decades where churches generally have been preoccupied with numbers and programs.
Groeschel explains the way he and his staff measure growth is different than measuring attendance week to week. "We believe that using our gifts to serve is one thing that helps us grow spiritually. So we measure the number of people who are engaged in serving—both in the church and in the community." Additionally, they measure how many people are in small groups and how many newcomers the church is hosting.
Giving the Bible (App) Away
Carla Hinton of the Oklahoman asked Groeschel about the "irrational generosity" Life.Church is striving for. In a 2015 interview with Outreach Magazine, Groeschel shared he is proud of the fact that the church tells their members "they can take cash out of the offering if they have a need."
Life.Church's exposure is eclipsed by its YouVersion Bible app, which has been downloaded on over 300 million devices to date. Groeschel recalls launching the app outside the church walls at a time when the church was "financially strapped." Facing the decision whether to charge for the app or not, the church decided to give it away for free, hoping God would bless their contribution. "The value of generosity is core to who we are," Groeschel explains, clearly not regretting the church's decision on this matter.
Failing First
Hinton also asked about Groeschel's roots in the United Methodist Church. For the first five years of Groeschel's ministry, he served at First United Methodist Church in Oklahoma City. Before serving on staff at that first church, though, Groeschel came face to face with failure. He was "declined for ordination" the first time he sought it. The failure didn't deter him, though. "I learned not to give up," Groeschel tells Hinton. "This setback helped me to become more humble, more teachable and more resilient. Now, I'm not nearly as afraid to fail."
Inside the traditional church "box" of the UMC is where Groeschel learned to think innovatively. As he told Outreach Magazine, "true creativity is often born within constraints and limitations—inside the box." This resilience and innovation have served Groeschel well over the years. Life.Church has been around for over 20 years now, and at points has seen attendance of over 100,000 people in one weekend.
As to whether Life.Church will maintain its "largest church" in the U.S. status in the years to come, that doesn't seem to be Groeschel's main focus. In a 2017 interview with ChurchLeaders, Groeschel told us "My goal is not to hit home runs every week; my goal is to faithfully deliver consistent, engaging truth."