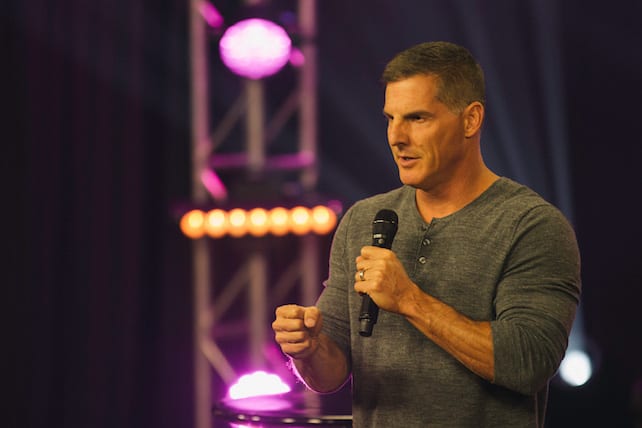 Subscribe to the ChurchLeaders Podcast
Craig Groeschel is the founding and senior pastor of Life.Church, a pace-setting multicampus church and creator of the popular and free YouVersion Bible App. He is the New York Times bestselling author of several books, including Divine Direct: 7 Decisions That Will Change Your Life. Craig and his wife, Amy, and their six children live in Edmond, OK.
Key Questions:
What changes did you make at your church to help staff avoid burnout and make time for family?
What does your sermon prep look like?
What kind of metrics do you track in your church and why do you track those?
Key Quotes:
"God doesn't talk a whole lot about our future…in Scripture…but he talks a lot about character and calling."
"A life of faithfulness is made of up hundreds of thousands of small decisions that compound over time that actually lead us in the right direction. It's not just the big things, but it's often the small things that no one sees that result in the big impact that everyone wants."
"The decisions we make today determine the stories we tell tomorrow."
"Who we are, what we're able to do, is a result of the decisions that we've made in the past, and who we're becoming in the future is the result of the decisions we're making in the present."
"I made permanent decisions based on temporary emotions."
"We tried to create a culture where it's safe to confess sin early. Here's the reality: We're all going to do something wrong at times."
"You're only as strong as you are honest."
"I don't like to think of myself as a prideful person, but I am vulnerable to pride."
"Why would I resist a temptation in the future that I have the power to eliminate today?"
"I do need to reveal what God is doing in my life to my wife or it really breaks our spiritual intimacy."
"My goal is not to hit home runs every week; my goal is to faithfully deliver consistent, engaging truth."
"He is directing my steps as I know him, so I don't have to figure out the future."
Mentioned in the Show:
Divine Direction: 7 Decisions That Will Change Your Life
YouVersion Bible App
The Will of God as a Way of Life