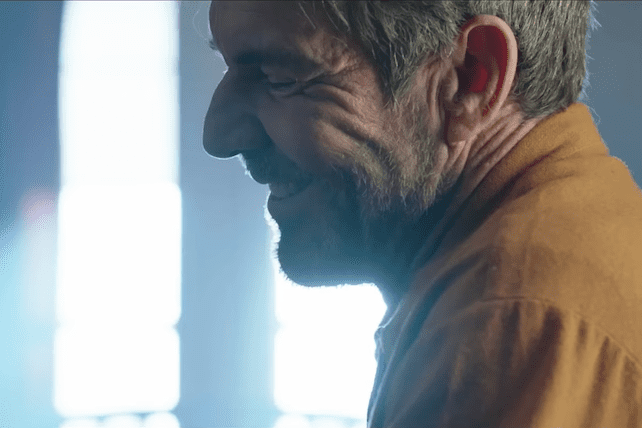 To say the inspirational movie I Can Only Imagine was a box office hit, is a bit of an understatement.
The true story about the life of Bart Millard, lead singer of the Christian band MercyMe, and his struggles with an abusive father, brought in $81 million at the box office.  The movie only cost $7 million to create.
Now, the hit movie is headed to the small screen. The film will release digitally on June 5 and on Blu-ray Combo Pack (plus DVD and Digital), DVD, and On Demand June 12 from Lionsgate and Provident Films.  The movie could also prove to be a draw for local churches. Some publishers have already produced DVD small group kits based on Millard's story. It might also be appealing to parents for a family movie night.
The movie package will feature over three hours of extras including seven deleted scenes, seven in-depth short features and more. Some of the special features include "MercyMe: The Early Days," "Imagine Forgiveness with Bart Millard," "Casting I Can Only Imagine," and Dennis Quaid: "On My Way to Heaven."
Millard sees the movie as an evangelistic vehicle. In the opening days' success of the movie at the box office he told KALB he was thrilled about the public reception but added there's a bigger story behind the bottom line, "No one is out of the reach of Christ. If people walk away with that kind of hope, then we've done our job."
Cindy Bond had high hopes for the movie, as all producers do for their efforts, but she admitted she never saw this level of success.  She told the Sacramento Bee, "Oh my gosh, I have not landed; I'm just orbiting the earth. My feet haven't touched the ground. Hollywood is not ignoring this faith-based film," she said. "This movie jumped up and said, 'Hello!' It elevated the whole genre."
Reach of I Can Only Imagine Continues to Grow
And as they say on those late-night infomercials– "But wait, there's more!"
Last month, Oklahoma Governor Mary Fallin signed HB 3473 into law, which legally "declares the official inspirational state song to be 'I Can Only Imagine' by MercyMe."  The measure also orders the State Library to keep a copy of the song in its records. The film was shot in Oklahoma.
But the continued success of the movie, and the song it was based on, shouldn't come as a surprise.  For some time it appears as if a divine hand was guiding its good fortune.
The song was quickly a hit on Christian radio when it was released in 1999, but it reached heights no one could have predicted four years later when some shock jocks on an FM rock station in Dallas played the song on a dare.   
Fitz, Tony and Big Gay Steven, then-hosts of Wild 101 FM's "The Fitz Show" decided to play the song as nothing more than a joke. And when they did, something unexpected happened: the phone lines lit up with requests for "I Can Only Imagine" to be played again.  Listeners loved it.
I Can Only Imagine appeals to a secular audience
Soon, interest in the song snowballed and the band's record label began sending copies of it to top 40 stations across the country, challenging program managers to play it. When they did, their phones blew up as well, with the masses wanting to hear more of the Christian song.
"Word just started getting out. Our label didn't know what to do with it. How do you even promote this?" Millard told The Church Boys podcast. "They agreed to send a copy to the stations and say, 'Play it once and if you don't get a reaction just throw it out.'"
He said that those who played it quickly saw the song top their charts, with MercyMe members explaining that DJs were contacting them and saying that this was the first time in their careers that people were actually calling to thank them for playing something inspirational.
Now, the next mission field for the movie appears to be at local churches and how God might use a DVD to continue spreading His story of grace and redemption.