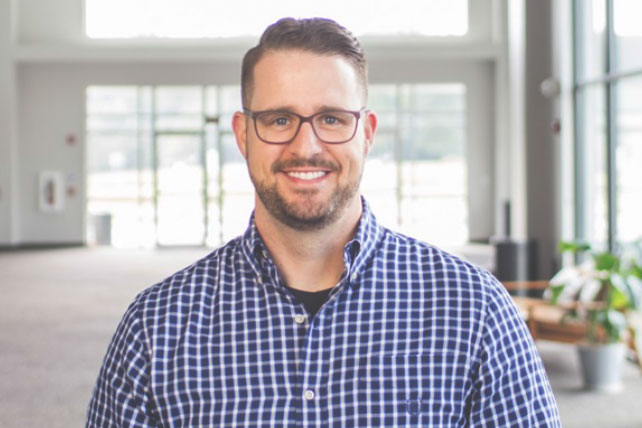 Today, I am glad to welcome Mike Burnette to The Exchange. Mike is Lead Pastor of LifePoint Church in Clarksville, Tennessee. LifePoint is one of the fastest growing churches in America.
Ed: You've just been announced as the pastor of the fastest growing church in the country. Tell me about last year's growth.
Mike: The church started in 2005. I became pastor in 2010, and at the time, we had 85 people my first Sunday. It has grown every year since then. We opened a new building, started two new locations, and have gone from 85 to 4,200 in eight years.
Ed: How does the church not just implode?
Mike: We always try to build ahead of our growth. We are constantly building our volunteer teams—we call them our Dream Team—and empowering them to get ready for growth. We look ahead, planning for growth, leading our staff through next phases, and putting voices of larger churches ahead of us to be ahead of the growth. We never want to chase growth. That's when it things fall apart.
Ed: Is there strategy? Have you done anything that helped this growth to come, or did it just come surprisingly?
Mike: I teach a lot that culture and systems is how you design the leadership, culture and structure of your church. This way, when God brings growth, you're ready for it. We've got a pretty streamlined structure and systems in place. We do four things: We have Sundays, we have small groups, we assimilate people through a program we call our Growth Track, and then we have people serving on our Dream Team volunteer team.
The goal in church leadership is to build a culture and to lead systems that are ready to receive growth. You can't produce it; you have to receive it.
Ed: What other human factors might have gone into such quick growth? Was it an influx of people in the community or a church split, for instance?
Mike: Clarksville is a fast-growing town. They say eight people a day are moving into the city, and our church is on the interstate of the fastest growing part of the community as well. We also opened a new building in 2017 and we grew by 1,012 people in one weekend.
Four months prior to that, I preached our growth track as the sermon series, and I kept telling our church, "We need 500 volunteers because people are coming. And this building is going to open." We were at a middle school at the time.
Ed: Tell me about the assimilation process in the church.
Mike: Our assimilation process is immediate and quick. As soon as you come, you can join. It's a four-step process, and it happens every week. The first Sunday of the month is our step one, the second Sunday is step two, et cetera. On your first Sunday, you can join it and just get right into the flow of that whole system.
Ed: What percentage of the people are now involved in a small group?
Mike: Our numbers are low for the size of our church now, but of course, discipleship always follows growth by 12 to 18 months, whether it's giving, serving or small group attendance. We now must re-strategize how to deepen the well of small group. So we've started a new group called Group One, and we're using the Rooted curriculum that we got from Mariners Church.
People love the big room, but new folks struggle with living rooms. Moving from the big room to a living room is a big jump for people who are new to our church, so Group One meets in the auditorium in the big room, which fits about 150 people, and then we put them into 12 groups. This is another way we're launching people into groups.
With fast growth, you have to have different systems to expedite the process for people. So Growth Track still works, but we've changed the structure of our small groups in order to assimilate people faster. The thing we don't want people to do is just sit, observe and consume for too long because then they get used to it and they're not challenged to move forward. We're always challenging people to step forward in every area, whether it's giving, attending, serving, being in small groups, whatever.
Ed: What would you say to people who say, "I want to be the fastest growing church in America?"
Mike: Don't want to be the fastest growing church, let God choose to do that. We didn't set out for that. I started out with 85 and my goal was just to get healthy. Focus on healthy systems and culture more than growth. God will grow it.
Since we believe the Bible, I say this a lot: One guy will plant seeds, one guy will water seeds, but only God grows the church. You can't set out to say, "I want to grow my church"; instead, you've got to set out to say, "I want to lead it to be healthy." That's in systems, culture, practices, high integrity and more. And God will grow the church when he chooses to grow it.
This article originally appeared here.