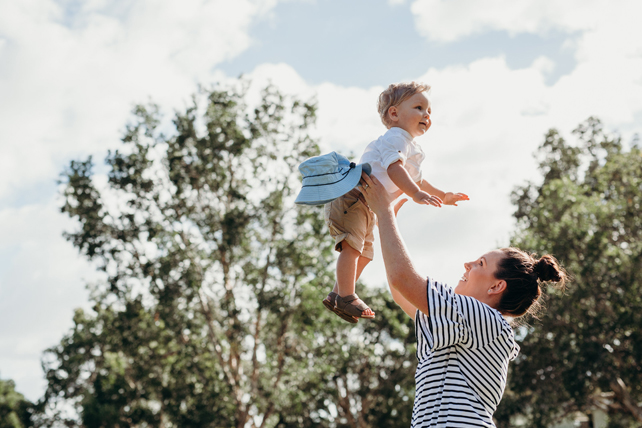 Our son, Jude, turned two recently. Like many moms, I get a little sentimental as we approach birthdays. I broke out old photos and swooned in the days prior. My heart ached as I remembered the nurses commenting on his beautiful head of hair, long toes and how handsome he was. My cheeks were tear-covered as I remembered the moment he was placed in my arms for the first time.
It wasn't the nurses who placed him there; it was the woman who carried him for nine months in her own womb, his birth mom.
I have a video of that sacred moment that I watch often. The lighting is bad, and it's shot on a phone. The tiny room was crowded with our two social workers, me, my husband, our birth mom and her friend that she brought for moral support. It was a rainy day, and the room was dim.
Our birth mom led the way as we both approached Jude's open isolette. He started to fuss, yearning to be held, and his birth mom looked at me. I made an awkward noise that was actually me choking back tears while I muttered, "No, no, you first." We looked at each other nervously. I gently touched her arm, and she reached for our son.
She held him closely and rocked him for a few minutes. When she was ready, she gently placed him in my arms. I looked down at this beautiful baby boy, who didn't reflect my physical traits in any way, and marveled at how God brought us together. Ben stood behind me with his arms around my shoulders as we inspected every detail of our son's face. Tears fell as I held our son, because as a mother who carried babies in her womb, I knew the sacrifice this other mama was making.
My favorite moment from Jude's birth was when his birth mom placed the child of her womb into my arms and deemed me his mother. It was a sacred and holy moment, dripping with the deepest human emotions—joy, love and deep sorrow. All three were intermingled together painfully and beautifully.
Sometimes when good-intentioned people ask about Jude's adoption, they'll say something like, "I cannot imagine ever being at such a low moment that I'd give up my child. It's so great of you to be willing to take a child in like that." Comments like these make me cringe for a variety of reasons, but I always reply, "Jude wasn't given up. He was placed directly in my arms by a birth mom who loved him and did what was best for her and her child. She's the one who is the real hero of this story, not me."
He wasn't given up. He was given life.
In a world where the adoptive parents are often the ones who are compared to Jesus because of the beautiful picture of adoption, I'd like to portray an alternative storyline that enhances the beauty by showing a fuller story. Each person involved in the work of adoption has a role that displays Christ's glory, but the birth mom is the first to initiate this redemptive journey. Yet, she's the one who receives little reward for her unconditional love, perseverance and sacrifice, and is often talked about with hushed whispers and critical tones. Although, she's the one who, despite living in a world where abortions are easily accessible and encouraged, chose life and sacrifice over death.
"Giving up" your child doesn't look like an enduring love that sacrifices one's own body to physically nourish and carry a child. "Giving up" doesn't look like the deep love that keeps a child from being orphaned or from going into the foster care system by choosing to place him into the arms of his mother. And just as Christ chose to love sacrificially and provide a redemptive story for all of us, birth moms choose to do the same for their children.
So, as I break out my phone, I watch my son's first mom, his birth mom, demonstrate Christlikeness in the most amazing way I've ever seen. She physically laid down her life, and with a resilient love she placed the child she carried next to her heart in the safety of my arms.
Author's note: The world of adoption is diverse. Some children are adopted through foster care, others through international adoption, and some through domestic adoption. Our adoption story reflects the latter. Most infant domestic adoptions occur when a birth mother finds herself with an unexpected pregnancy and chooses life for the baby, but for a wide variety of reasons chooses to place her child in a family via adoption. If your adoption story doesn't reflect ours, that's OK. There's room for differing experiences in the adoption world. This piece was written with the intention of removing some of the stigma around birth moms and to show how their love and sacrifice is a picture of Christ's love for us.
This article originally appeared here.