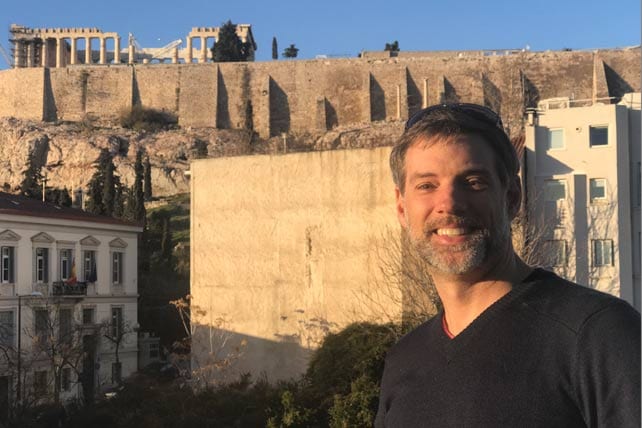 Editor's note: This article contains a graphic image of a man who was beaten. We feel it is worth including in order to illustrate Christian persecution in Iran and the European refugee crisis. 
---
"I saw a refugee crisis going on in the world, and I couldn't not go."
 A little over a year ago, Eric Demeter was working in business when he realized God was calling him back to ministry. While he at first pursued that calling by working for a corporate ministry, he realized something was missing. "I knew my heart and my passion was working with people. Put me with the people, put me with the needy…boots on the ground, that's Eric," he said in an interview with ChurchLeaders. 
European Refugee Crisis: Working with Iranian Refugees in Greece
Eric already had quite a bit of experience leading missions teams around the world and had been through Athens a couple of times on short-term trips. He knew there were many people who were not Christians in the area: "I saw tens of thousands of people going through Athens, which is a hub, and I wanted to share about Jesus, so what better place to go?" Throughout the past year, he has been working with Iranian refugees in Greece, sharing the gospel, teaching English and Bible classes, and simply living life with people. 
Because of his work, Eric has had an up-close look at the persecution Christians are facing both in Iran and in Greece, and he wants to get the word out to the church about what our Iranian brothers and sisters are going through. "Part of my job is just sharing their stories," he says, "that we have brothers and sisters in need around the world who need our support, need our help, need our prayers. And the persecution doesn't stop once they come to Greece. You would think that once they come to Greece everything is fine, but it's actually not." 
What Christians Are Facing in Iran 
Iran, which is ruled by Islamic law, was listed ninth in Open Doors' World Watch List 2019, which ranks the top 50 countries in the world where Christians face the worst persecution. "Christians in Iran are not allowed to share their faith," says Eric. They are not allowed to gather publicly or to baptize other Iranians. If they do, he says, "They can get threatened, they can get interrogated, they can get put in prison and they can be tortured." 
He has heard a lot of stories about Iranians running for their lives. Some of the people he has met in Greece left Iran, not because they had been persecuted, but because they didn't want to live under the oppression of the regime. "Many of them have become Christians after coming to Greece," he says. 
One of Eric's friends, whom we'll call Izad, was imprisoned twice for sharing his faith. While in prison, he shared a 12-square-foot cell with 14 people. Every day, the only food he received was one piece of bread and one potato, which he had to share with three other people. He lost over 100 pounds in less than 90 days. 
Izad was also hung from the ceiling and beaten. His sister-in-law took the picture below right after he was released the second time.  
The Iranian government told him if they caught him sharing his faith again, he would die. 
Eric says he asked him, "Was Jesus worth it?" 
"Yes," Izad responded. "I will experience trouble again for Jesus." 
More Trouble in Greece
You might think that once Christians escape from Iran, they are free from being persecuted for their faith. This, however, is not the case. Eric says that when Iranian refugees come to Greece, they end up in refugee camps, where the culture is the same as the one they just left: It is majority Muslim and Christians are still persecuted.