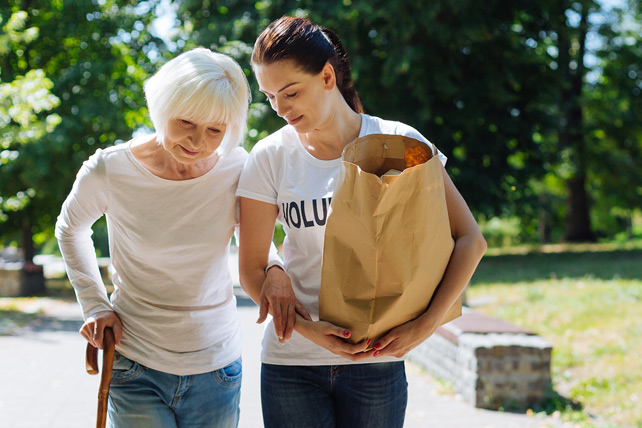 We experienced servanthood evangelism at its best this last Tuesday night in Mobile, Ala., and the evening's destination was Provident Hospital. The agenda that night: Distribute gift bags to patients and their families in the emergency room.
In two hours, the small group from local church Deeper Life Fellowship (deeperlifefellowship.com) had blanketed the area with their free gifts—complete with enclosed cards that read, "We hope this small gift brings some light into your day. It's a simple way of showing you God's love in a practical way, no strings attached. Let us know if we can be of any more help."
Nine days later, Deeper Life Fellowship Pastor Mark Wyatt answered a phone call. The voice on the other end informed him that her husband had received one of the ER bags.
A series of questions ensued: "Did you mean it when you said you want to help?" she asked Wyatt. "Absolutely," he replied. "What kind of help do you give?" she said. "We give spiritual help and any other kind we can. What kind of help do you need?"
That night, Wyatt visited the caller and her husband to discover that the family of five was Iraqi refugees and Muslims with no friends or family in America. While they did have some definite material needs, they were mostly hungry for relationship. The couple asked numerous questions about Christianity and the church, and at the end of the night, Wyatt invited the family to visit his church. The following Sunday, Ahmed, Salma and their three children, Sera, Hanin and Ebrahim, showed up at Deeper Life. A few weeks later, they asked to see the "JESUS Film."
"A couple of our families in the church are reaching out to them on a consistent basis, fixing their cars, keeping their kids for sleepovers, basically loving them in any way possible," Wyatt says. And it all began with a simple free gift and a card.
EMBERS INTO FIRES
Ahmed and Salma's story is one of thousands worldwide that have taken place as a result of the method and worldwide movement known as servant evangelism—a term coined in 1985 by Steve Sjogren, founding pastor of Vineyard Community Church in Cincinnati, Ohio (cincyvineyard.com), and now launching pastor for the 6,500-member church. Sjogren and his church began practicing servant evangelism almost 20 years ago as a means of serving and connecting to their community.
Since then, the embers that started burning in Cincinnati have raged into roaring wildfires across the world, from the U.S. to Ireland to even Africa, leaving in their path transformed lives and churches. Defining servant evangelism, Sjogren explains, "It's doing small things with great kindness to unexpectedly interrupt a person's day with the love of God."
These "acts of kindness" are limited only by the creativity and resources of those doing the outreach—anything from cleaning the toilets of businesses (what Sjogren calls the 21st century equivalent of a foot washing), to washing windows, to handing out cold Cokes in a park, or mowing lawns. Whatever the act is, the point is to not take anything in return. It is a no-strings-attached gift.
The only thing that can be attached, and should be attached, is a "connection" card that simply states the purpose of the service or gift, offers a phone number to call if anything else is needed, and may include the name and address of your church.
IS IT REALLY EVANGELISM?
That servant-style evangelism (servantevangelism.com) shies away from an immediate, direct presentation of the Gospel draws some criticism. Is there a risk that someone who is touched only by a servant evangelism outreach may never again come into contact with the Gospel? How does washing windows for someone without telling him or her about Christ actually lead to salvation?
While those practicing this brand of outreach acknowledge these risks, they believe they're minimal and stress that the attraction of kindness draws people to Christ.
"We don't push the Jesus stuff very hard at first," says Sjogren, explaining how an outreach works. "We tell them we are showing God's love in a practical way because the word 'God' is more palatable to people. Often people respond, asking, 'What do you mean by that?'
Then we bring up Jesus and say, 'Well, we think that if Jesus were walking around the streets of the city, He would be doing things like this for people.' Often people respond, 'Yeah, I think He would, too.' That's the heart of servant evangelism and the heart of the Gospel."
Plus, Sjogren and other servant evangelism practitioners are quick to point out that it is not the act of evangelism itself, which moves a person's heart to accept Christ; it's the Holy Spirit. Servant evangelism relies on the acting of the Holy Spirit. Outreach activities are covered in prayer, and participants are actively praying as they offer acts of kindness.
For the last two years Victorious Life Church (victoriouslifechurch.com), in Tampa, Fla. has practiced servant evangelism in the city of 300,000. During that time, Senior Pastor Ed Russo has seen firsthand its effectiveness over the long haul, and to the question, "Is servant evangelism really evangelism," replies emphatically, "Absolutely!"
"Servant evangelism basically enables the congregation to engage their own community," he says. "It puts into practice the scripture that says the kindness of God leads people to repentance (Romans 2:4). As we show kindness to people by showing God's love in a practical way, it draws them closer to God."
Phil Jeansonne, senior pastor of Vineyard Kenner (vcfk.com) just west of New Orleans, La., agrees with some qualification. "It's very effective if you know what your target is," says Jeansonne. "If your target is to get conversions on the spot, then, no, it's not as effective as some of those other things. Although, I'm not always sure if the other thing produces real conversion either.
"Servant evangelism is more like sowing seeds, and at some point you know fruit will come. It may not be in your church, but you've certainly sown seeds, and one of these days someone somewhere will reap the harvest."
In the eight years Jeansonne and his congregation have practiced servant evangelism, the church has touched thousands of people, yet only a handful of them have actually visited the church. Still, he is convinced that the church should continue these acts.
"I believe it's something we need to keep doing," he says. "It keeps us in front of people, and pushes them up the pipeline a little closer to the Lord. It changes their thinking, their opinion of church and of church people."
BUSTING STEROTYPES
In 2003, a Gallup poll indicated that almost half of U.S. adults do not have "a great deal" of confidence in organized religion. Moreover, the same year, a Barna Research Group study reported that a sample of non-Christian adults ranked evangelicals tenth out of 11 groups evaluated, rating them one place above prostitutes. Clearly, the Church has an image problem. Servant evangelism, its proponents believe, helps to combat negative stereotypes often associated with the Church by allowing people to see the Gospel lived out.
Doing kindness, Sjogren says, draws curiosity. "It's more of a 'show-me' thing than a 'tell-me' thing," he explains. "People are really tired of being told. They are not interested in a message of words but are very interested in messages of works and demonstrations."
Keith Giles, outreach director for The River in Tustin, Calif. (therivertustin.com), adds to Sjogren's insights: True compassion is something you cannot argue against," he says. "People who are resistant to the Gospel are open to works of service and compassion. This becomes a path for them to take Jesus seriously, outside the theoretical framework or intellectual argument."
That's how Andy Healy, a single father and electrician, connected with Riverside Church in Cincinnati, Ohio (riversidech.org), and ultimately Christ, one hot July afternoon. Stopped at an intersection, Healy accepted a free cold soda from two women. As he recalls, "There were some crazy church people handing out pop. I thought, 'Sure, I'll take your free pop. No problem.' " He placed the connection card on the truck's dash.
As summer turned to fall and his daughter headed back to school, Healy sensed he needed something more in his life. The card was still in his truck, and he remembered the kindness of the two women that day—something he hadn't seen in Christians he knew in the past. The next Sunday, he and his daughter visited Riverside, and a few weeks later he accepted Christ.
Servant evangelism has been key to breaking down negative stereotypes in the Lancaster, Pa., community where Jerry Shannon pastors Lancaster Vineyard Church (lancastervineyard.com). The area he says is "highly religious" and steeped in legalism. "People are used to having churches try to sell them things or come on 'hot and heavy,' " he says, "However, through servant evangelism, we've been able to show a very simple message: 'God's love is free for the taking.' We get people from all walks of life who discover that evangelism is not a guilt-driven exercise, but rather a life-changing experience."
MULTIPLE IMPRESSIONS
Just as showing vs. telling appeals to today's world, another servant evangelism concept—planting vs. harvesting—also takes on new significance in a postmodern culture that requires repeated touches, or "impressions," to be moved to action.
Says Doug Roe, senior pastor of Vineyard Community Church in Dayton, Ohio (daytonvineyard.org): "What I've found over the years is that people are going to need to be touched over and over again with the Gospel."
Sjogren references the apostle Paul's words to the Corinthians: "I have planted, Apollos watered, but God gave the increase" (1 Cor. 3:6). "Paul implies that evangelism is a process," he writes in his book, Conspiracy of Kindness (Vine). "Paul's view of evangelism is quite unlike our American mindset, which tends to focus on the harvesting  aspect of soul-winning rather than the planting part. Opening hearts which have long been closed to God's love isn't something that normally happens quickly."
Apparently, the Rev. Billy Graham agrees. Sjogren shares, "I was with Billy Graham twice in the past 18 months. He loved the idea of servant evangelism and its concepts. He said that he's seen too much harvesting ministry going on today and not enough seed planting for the future. He told me to keep planting seeds."
RECEIVERS READY TO RECEIVE
However, when people have been nudged to the point of readiness, handing them a free bottle of water doesn't usually cut it. At that point, they've seen the Gospel and are now ready to hear it.
Sjogren points to the Engel Scale to explain. In his 1975 book What's Gone Wrong With the Harvest? (Zondervan), James Engel presented a scale to indicate how to approach a person based on their level of readiness to receive—and familiarity with—the Gospel. A person at -8, for example, is said to have "awareness of a supreme being but no effective knowledge of the Gospel."
"Servant evangelism is not an end-all answer," Sjogren explains. "It just happens to work well with people who are extremely far from the Gospel. So many people are at -8 that it works very well with them. But a person who is at -2 might be more receptive to something more along the line of the Gospel rather than just another nudge of kindness."
Vineyard Kenner Pastor Jeansonne recalls a gift-wrapping outreach a couple years ago at a local mall and a life-changing conversation for one of the kindness recipients.
"One particular shopper was just overwhelmed that we'd be out there doing that," he says. "She wound up telling us she was going in for surgery the following Monday. She had cancer. We got to pray with her." After the surgery, the woman came to the church and soon accepted Christ. "She was at a place in her life to hear and receive the Gospel," Jeansonne says.
Other servant evangelism adherents report similar experiences. Roe remembers how one simple question led to an opportunity to share Christ while washing windows at a gas station. "I noticed this one guy who came through three times," he says. "I asked him, 'So what's going on in your life?' His response came pouring out. His wife had left him. He told me, 'You know, it really feels good to stand here and talk to you. I'm not exactly sure what's going on, but talking with you feels better than anything else I've done.' I shared with him that what he was feeling was the presence of the Lord. He ended up accepting Christ right in the middle of the gas station."
While immediate decisions are the exception rather than the norm in most servant evangelism encounters, practitioners say that few people react negatively to a free act of kindness. At most, people politely decline the offering and go on their way.
GIVERS TRANSFORMED
But for those doing the giving during a servant evangelism outreach, a transformation occurs in nearly every instance. Last October, Pat Sneed, a member of New Vision Church in Athens, Tenn., (newvisionchurch.info) shared Christ with someone at a Halloween festival servant evangelism outreach. While the man dressed in a devil costume didn't accept Christ there, he continued to ask spiritually charged questions.
"I've been on a high ever since!" she says. "Before that, I wouldn't have been interested in any kind of evangelism. Now, I have more confidence and feel emboldened to share Christ. I'm eager to tackle just about any type of evangelism."
The same evolution characterizes the lives of Vineyard Boise (vineyardboise.org) members Graham and Stephanie Taylor. "As two people who were afraid to share God with others in the past, servant evangelism has really given us the confidence to take the next step with people," Graham says. "We have learned to pray with confidence and offer prayer to people right then. Until a year or so ago, we might have said something like, 'We'll keep you in our prayers.' "
James Cherian, associate pastor for Vineyard Church of Ithaca, N.Y. (ithacavineyard.org), offers insight into the reasons for these transformations:"Doing servant evangelism melts away impatience, selfishness and other 'me-ness,'" he says.
"The people who serve definitely go through some kind of transforming process. And with consistency, it begins to change the way someone views those who do not know Jesus. When we are not consistent with the outreaches, this passion wanes."
CHURCHES CHANGED
Specific statistics directly tied to servant evangelism are hard to come by with most pastors indicating that results would be difficult to track. They are quick to say that it's not about numbers. However, in many instances, growth is a by-product. Ed Russo's church in Tampa has grown by more than 700 people over the past two years, after the church started practicing servant evangelism. In the past eight years, Phil Jeansonne's church has grown from 200 to more than 1,400 showing up on weekends. And Doug Roe has an average attendance of nearly 3,000 in his Dayton church, planted in 1991.
But, while all these pastors say their commitment to servant evangelism played a part in their churches' growth, they note that these encounters alone are not the only factor. Each one has also implemented complementary programs such as Alpha, Evangelism Explosion, discipleship small groups and other ministries to complete the process of evangelism and fully establish newcomers in their faith.
Yet practicing servant evangelism, Sjogren says, is an easy method for moving a church's focus outward. "You've got to have some inward focus to get the church going and keep it alive, such as small groups and strong leadership," he says. "But ultimately the thrust of the church is either inward or outward. What's your mission statement? Is it all about us or all about them? I think most churches are all about us, not about them."
As a result of becoming outwardly focused, most churches' internal strength and unity begin to grow through the process.
"Our goal for doing servant evangelism," says Jeansonne, "was never to grow our church with it. We just simply wanted to serve. As a result, we've made evangelism doable. Our people are being mobilized and seeing how nonthreatening outreach can be."
For Deeper Life Fellowship in Mobile, Ala., servant evangelism has been vital to building unity in the church, says Pastor Mark Wyatt.
"Unity comes because people get used to thinking about others, not themselves, which is where most strife comes from anyway," he observes. "They stop thinking about what they need, and they get excited about working together to make a perceivable difference in the city."
That visible difference attracted Ahmed and Salma to the Mobile church, and ultimately to Christ. It's the strength of servant evangelism. The touch of kindness disarms the skeptic and prepares a hungry heart for eternity—even when it's the heart of a Muslim.