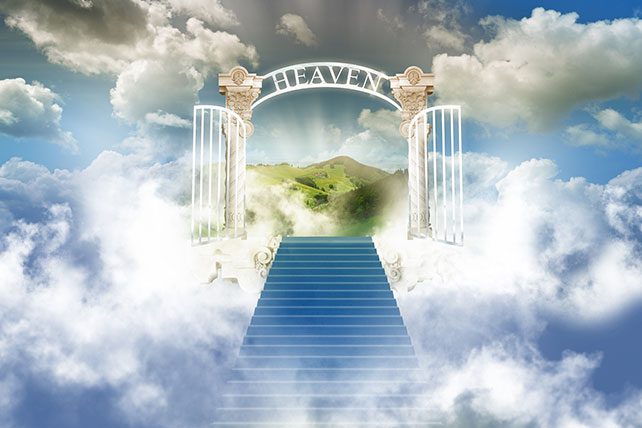 I've gotta confess, I feel a little uncomfortable saying this. Am I allowed to say this in a public forum? Is this going to be bleeped out, or am I going to be fined by the FTC or something? Maybe I should post this anonymously: Oh what the heck, here I go: everyone says they want to go to heaven, but a lot of times heaven sounds really boring to me. 
There, I said it. Phew. Glad that's off my chest. No more secrets. No more hiding.
I'm not that excited about when talk about "go to heaven." When I think about heaven it all seems so abstract. I know that we'll be in God's presence for eternity, I know that we'll worship Jesus for eternity, I know that there will be hordes of angels, and I know that there will be no more pain, sorrow or tears.
And don't get me wrong, all that stuff sounds great. But when I picture it in my head, it just sounds like one really long Sunday morning worship service.
I'm a worship leader, and even I can only sing Chris Tomlin for so long before I need to do something else.
I'm a preacher, and even I could only listen to myself preach for so long before I had to do something else.
I don't think I'm alone in thinking that heaven sounds boring. I think lots of Christians feel that way. And, as Randy Alcorn has said, not being excited about heaven is one of the main ways Satan keeps us comfortable here. So how do we become more excited?
Why Should I Want to Go to Heaven?
I think we need to remember that heaven is not our final destination. 
So often we talk about heaven as if it is the final resting place for a Christian. When someone dies, we talk about them finally "going home," and "being in a better place." And they really are in a much, much better place. As Paul said, he longed to die and be with Christ, which was better by far.
But the reality is, heaven is simply the waiting room for the rest of eternity. When a person dies, they leave their body and go to heaven to be with Christ.
Go to heaven. but that's not the end.
Our final, glorious, exciting hope is not an abstract, bodiless existence. When we "go to heaven" our great end is not to float about the universe as bodiless souls. The end comes when Jesus returns, makes a new, physical heaven and earth, and gives us new, physical resurrection bodies.
I can't relate to simply being a soul. I have no concept of that form of existence.
But I can imagine having a new resurrection body, and the prospect of that excites me! Our resurrection bodies will feast at the table of the Lamb! We will eat glorious meals! What sorts of flavors will our new bodies be able to sense and savor?
Our new bodies will sing to the king. How many different shades and shimmers of harmony will we be capable of producing?
What sorts of things will we do with our friends in heaven? Will we explore? Will we swim in heavenly lakes? Will we have heavenly competitions?
I don't know all that we'll do in the new heaven and the new earth, but I can imagine. I can think of all the God-given joys I experience in this life, and then amplify them by a million. I can think of the many gifts of God I experience in this life, then blow those up. It's going to be wonderful. Astonishing. Breath taking.
Will heaven be good? Yes, it will be great.
But I can't wait until I'm not in heaven. Heaven is just the waiting room.
I can't wait until I'm in the new heaven and new earth, with my new resurrection body. That's what I'm truly looking forward to.