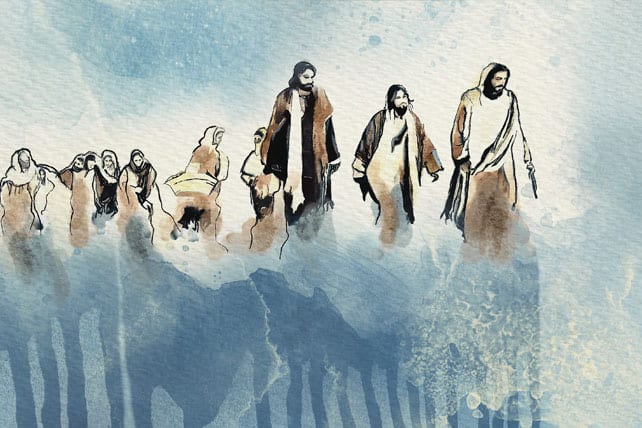 What is a disciple? Dallas Willard provided one of the finest explanations I have ever seen: "A disciple is a person who has decided that the most important thing in their life is to learn how to do what Jesus said to do." Argentinian pastor Juan Carlos Ortiz provided another great answer to "What is a disciple" when he said, "Discipleship is more than getting to know what the teacher knows. It is getting to be what he is." Both these definitions are good news! We can be trained in discipleship.
Becoming a disciple of Jesus should bring four transformations: we are born from above; we are transformed by grace, we acquire his character; and we imitate his works. And look at the results that follow when believers learn the biblical answer to "What is a disciple?" The gospel stories reveal a ragtag group of Jesus-followers beset with infighting and petty pride. These flawed, fighting men became the apostles who turned the world upside down! ("Apostle" usually refers to the original band who followed Jesus. "Disciple" can refer to anyone who embraces Jesus as the Master Teacher of Life.)
The first believers demonstrated they were up to the task—not because they had their act together, but because the life of Jesus had been planted in them as an imperishable seed (1 Peter 1:23). Many Christians today think that being a disciple is a special calling set aside for super-saints. They have been led to believe that there is a difference between being a Christian and being a disciple. But Acts 11:26 reveals that the first disciples were so Christlike that other people began to call them "Christians."
The seed would grow within them in at least four ways. We can learn the answer to "What is a disciple?" by looking at the transformation of Jesus' first followers.
What Is a Disciple? 4 Transformations That Show the Way
1. Transformed by New Birth
The first disciples found themselves transformed by their new birth. They really were a new creation. Heaven's DNA altered their very being. Formerly timid, self-absorbed, working-class, they became men who threatened the Roman Empire, just as their Master had done. So many modern Christians are troubled by their past, troubled by their sin, and troubled by their future. They've experienced little or no change. But if the power of God can assure our eternal destiny, shouldn't it be able to impact our thoughts and actions here and now? That was the record of the early church.
2. Transformed by Grace
Most Christians see grace as a repeatable, sin-cleansing bargain. They find themselves repeating the sin-forgiveness-sin cycle over and over because they've missed God's transforming grace. God's grace is practical empowerment for discipleship. Titus 2:11-12 tells us that grace not only saves, it also transforms us by teaching us a new way to live.
3. Transformed in Character
The first disciples found themselves transformed in character. They demonstrated the character of Christ to a degree not possible by their own good intentions or human effort. Today, we are tempted to think we should "act better" because we are Christians. It's a trap: we will only "act better" as long as our willpower holds up. (Just ask anyone who's ever started a diet!) Eventually mere willpower fails us, even as it failed the apostles the night Jesus was arrested. True character change flows from the new birth the way spring water flows from the source. The transformation of new birth finds its way into our character by the hunger and thirst for the stuff of heaven. If a newborn child without hunger or thirst is desperately ill; why should it be any different in our life with Christ?
4. Transformed by Receiving Power for Ministry
The Apostles found themselves transformed by power for ministry. In John 20:22 Jesus filled them with the Holy Spirit, and as a result (over time) they became startlingly like Jesus in thought, word, and deed. Ordinary people declared the message of the Kingdom of God (as Jesus had done) and demonstrated the coming of that Kingdom with powerful actions—just as Jesus had done. By the Holy Spirit, the first believers discovered a transformation from the impossibilities of the flesh to the possibilities of heaven. What does it mean to do the works of Jesus? How we answer that question reveals our understanding of what it means to live "in Christ." In his day, Jesus had a high view of his followers. He believed in them more than they believed in themselves. It's still his day if we will let him have his way.
What is a disciple? Anyone who is willing to learn from Jesus Christ, the gentle and humble teacher. Jesus said, "Come to me, all you who are weary and burdened, and I will give you rest. Take my yoke upon you and learn from me, for I am gentle and humble in heart, and you will find rest for your souls. For my yoke is easy and my burden is light." (Matthew 11:28-30) The first disciples accepted that yoke. They received forgiveness—and something more: they learned a new way to live, taught by the Master himself. The question is whether we receive the yoke as well.
Subscribe to our email newsletter to receive more great content like this!