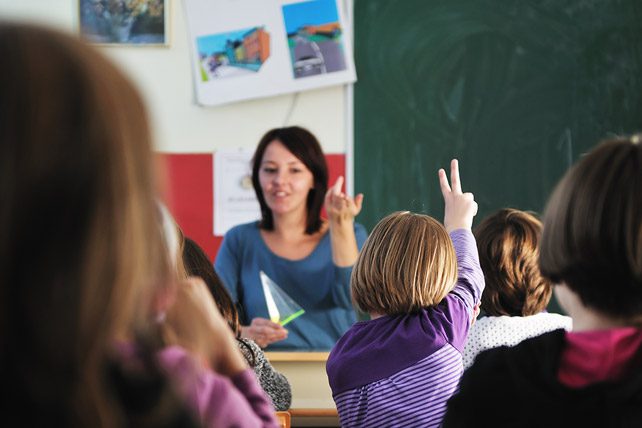 Gov. Ron DeSantis of Florida recently signed legislation that prohibits classroom instruction and discussion about sexual orientation and gender identity in elementary schools, specifically kindergarten-third grade.
The cultural divide can be seen in how the bill is referenced. While the law is officially titled "Parental Rights in Education," it has drawn national criticism from LGBTQ groups who refer to is as the "Don't Say Gay" law.
When signing the bill, DeSantis made his convictions clear: "We will make sure that parents can send their kids to school to get an education, not an indoctrination."
Opponents fear a chilling effect among teachers and young students, coupled with a concern that the law censors and excludes a community of people from public schools. Reaction from critics has been swift: because the company's chief executive did not take a stronger stand against the legislation, LGBTQ workers and their sympathizers at Disney staged walkouts in protest. During the Oscars, hosts Amy Schumer, Regina Hall and Wanda Sykes chanted "gay, gay, gay." President Biden called the legislation "hateful."
Sentiment against the legislation seems to rest on the rejection of any situation or context where there isn't the freedom to introduce, discuss and teach on issues related to sexual orientation and gender identity—even to very young children independent of a parent's consent. Somehow, if not allowed, that is a blow to the legitimation of the LGBTQ community.
But why, precisely, would sexual orientation or gender identity need to be discussed or taught in a kindergarten class to protect the LGBTQ community? There is no reason, and none have been offered. Nor is there is a reason, nor one being offered, as to why a teacher needs to be set free to engage potential conversations – if asked – by a kindergartner on such matters. For children of that age, that is for the parent to engage.
And if a child asks an unprompted question on the matter, again, any discussions at such a young age should be between a child and their parent, not a child and their teacher. And to the "chilling" effect this has on the classroom? I'm not feeling the temperature drop. In the 0.00001% chance a child does ask a teacher an unprovoked question related to such advanced topics, the teacher can simply say, "That is a very good question, and it's one you should ask your parents about when you get home. Now let's get back to our ABCs."
Whether you think the legislation was needed or not – meaning political grandstanding or authentic concern – the legislation itself simply says, again, that sexual orientation and gender identity issues have no place in kindergarten-third grade. And it's true. They don't.
To be enraged that such common-sensical thinking be put in writing is non-sensical.
The only other argument against the legislation that is suggested is that it harms children who may not have anywhere else to turn. But that is precisely the point of the legislation. It is not the role of a public-school teacher to become the parent of a child. To say that a child would have "nowhere else to turn" insinuates that if a child wants to turn away from a parent's authority or influence, they should be able to.