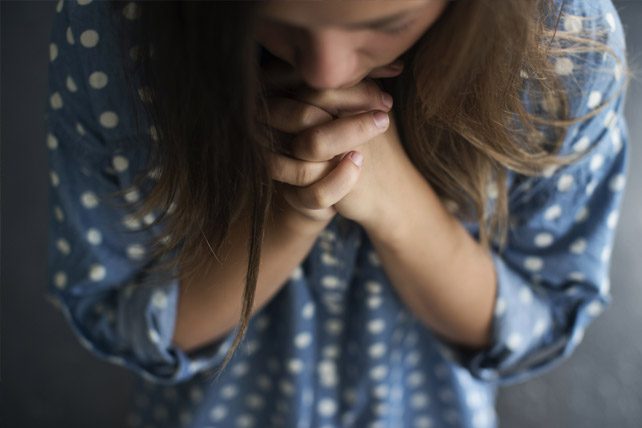 Growing up, Andrea was every parents' dream—smart, reliable, captain of the cheerleading squad, president of her church youth group and a member of the honor society. Her mom filled social media with posts of Andrea's achievements, science fair wins, and mission trips to far-off places. When she was accepted into the college of her dreams, Andrea and her parents couldn't have been more proud. 
Until the day everything fell apart—Andrea was pregnant.
The unplanned pregnancy during Andrea's senior year of high school caused Andrea to turn away from her faith in Christ. Suddenly, Andrea moved in with her boyfriend and kept her parents at arm's length. 
Ashamed and alone, Andrea's parents did all they could—they prayed. They prayed for their daughter and the little one whom she carried. And when they were finished praying, they prayed some more. 
Slowly, over the course of several years, Andrea came back to her faith in Christ. Andrea is now raising her daughter in a home that puts Christ at the center. Andrea credits the power of her praying parents for her pivot back to Jesus. 
As we reflect on the power and practice of prayer, let's remember that our prayers can and do avail much, as James 5:16 exhorts. Yes, our prayers impact individuals here and now, but as Andrea's story reminds, they can also impact generations to come—one life, one family at a time.  
The story of Andrea, her daughter, and her praying parents are living proof that the prayers of the righteous are powerful and effective. 
Prayer is one of the key spiritual disciplines and an essential practice of our Christian life. It is the core of how we worship our Creator, how we know Him deeper, and how we petition our Savior. We pray knowing that we have access to the author, creator and sustainer of the universe because he is our father.
Prayer can and does make a difference.
Do you believe that truth? Like Andrea's parents, do you believe that your prayers can make an impact for generations to come?  
This month, let's commit to pray for the vulnerable women, such as Andrea, in our communities who may be facing an unexpected pregnancy. Pray for these women to know their worth and identity at the core—for these women to know that they are not defined by their past choices. Rather, pray they know the truth—that they are image bearers of a loving and merciful God who has a plan and purpose for their lives.  
Let's also pray for the men in our nation to rise up and live out true biblical manhood by protecting women, practicing purity, and loving women as "Christ the loved church," as Ephesians 5:25 implores.