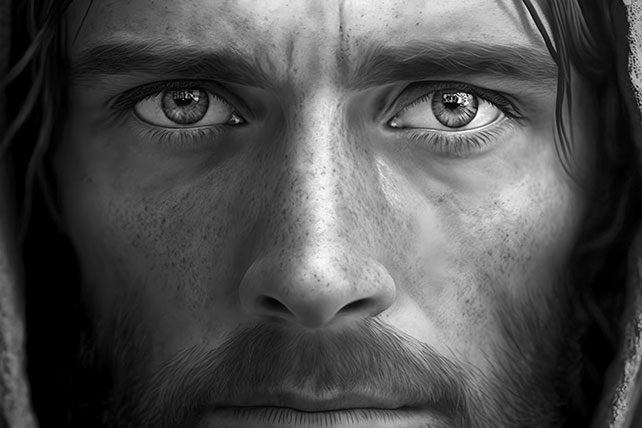 Can you imagine looking into the face of Jesus? Have you brought your imagination into the service of following him? In my experience too many Christians are taught to avoid subjective experiences with God. At the close of William Sampson's wonderful book, Meeting Jesus, he asks, "What was the color of Jesus's eyes?" The literal-minded person will immediately answer, "The Bible doesn't tell us. We cannot know. At best we can only presume that because Jesus was born to Jewish parents (blah, blah, blah)."
Sampson's answer is more compelling: "No color is mentioned. But they were not colorless, like Little Orphan Annie. They were human eyes. And that they were human and could be looked into like any human eyes can make a big difference in getting to know Jesus."
What Color Were Jesus's Eyes?
It's like the stuff of a romantic comedy when the unappreciated girl traps the smooth-operating guy with a question as they talk on the phone: "Oh, you think I'm great? Really? What color are my eyes?" Long silence: the smooth operator is busted. He doesn't really know her, he simply likes the idea of wooing and winning yet another conquest.
Can you imagine looking into the face of Jesus? Have you brought your imagination into the service of following him? In my experience too many Christians are taught to avoid subjective experiences with God.