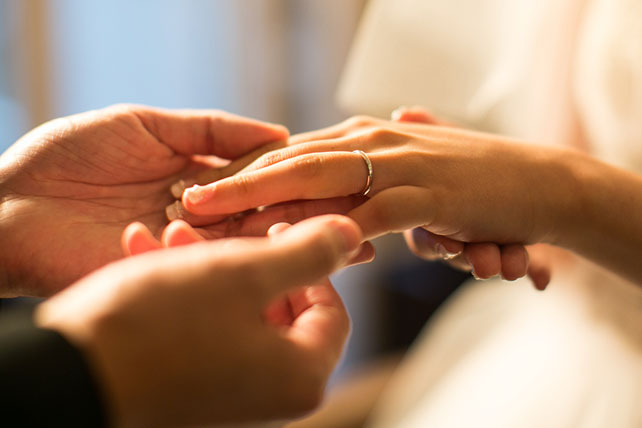 What is God's purpose of marriage? There are actually five key purposes for your marriage.
Angie and I are approaching our 17th wedding anniversary. I'd love to say that we've always been happily married, but that kind of dishonesty wouldn't help you much.
Happiness rises and falls for all of us, married or not. And happiness isn't the real goal of life anyway. Marriage isn't about your happiness.
Every day, I pray a prayer over my children that says, "God, help them to first be holy (set apart for You), and then to be healthy (physically, emotionally, spiritually and socially), and finally to be happy."
I want all three for them, but I want them in the proper order. So hoping to be married "happily ever after" will leave most people frustrated by unfulfilled expectations.
If you just read that and thought, "Man. The guy sounds pretty UNhappily married … " you'd be way wrong.
I would just say it this way … I've been married to the most awesome woman for nearly 17 years. In the seasons of our marriage where the pursuit of holiness has been my first priority, and when I've been healthy on multiple levels, our marriage has experienced joy that goes deeper than mere surface or self-fulfilling happiness. But in moments or seasons where holiness has slipped to some lower priority, when feeling the fun feelings of happiness has become my goal, or my god, or whatever, our happiness together has faded and struggled.
Overall? I'm really, really happy to be married to Angie! (And I'm thinkin' she would say the same.)
When Angie and I are mutually committed to being God's people for each other, our marriage soars.
Right now, I feel that we're stronger and more blessed than ever. But that's partly because we've been in the fight of our lives, recovering from the discovery of some very deep, real sin and pain in each of us. Selfishness always destroys because it's rooted in pride, works in the opposite manner of love, and can never be satisfied.
But when we exemplify the very nature of the gospel (the self-sacrificing love by which Jesus went to the cross and laid Himself down for us to have and to hold us forever), then healing comes. And along with it, joy and happiness and fulfillment and intimacy and oneness and all the other things we know marriage ought to bring.
I'm a big believer that God is a God of purpose and He has five purposes for every one of us. These are elaborated upon in Pastor Rick Warren's The Purpose Driven Life, which has helped to lead a generation to an understanding that it isn't about me, or you. It's about God. It's about His plans and desires. And those five purposes are:
He has planned us for His pleasure and wants everything about our lives to be worship.
He has formed us for fellowship and desires that we develop deep relationships within His family.
He has created us to be like Christ and gives us every spiritual resource necessary to pursue that goal.
He has shaped us to serve Him and we serve Him by serving others.
He has made us for a mission and wants to use us to share the good news with everyone in the world.
God has these five purposes for your life as an individual believer. He also communicates these five purposes to the church, and every local church that focuses its work and ministry on fulfilling these five purposes in the world will be healthier for it.
And as I've devoted plenty of thought to it, these five purposes wonderfully express God's design for and purpose of marriage too.