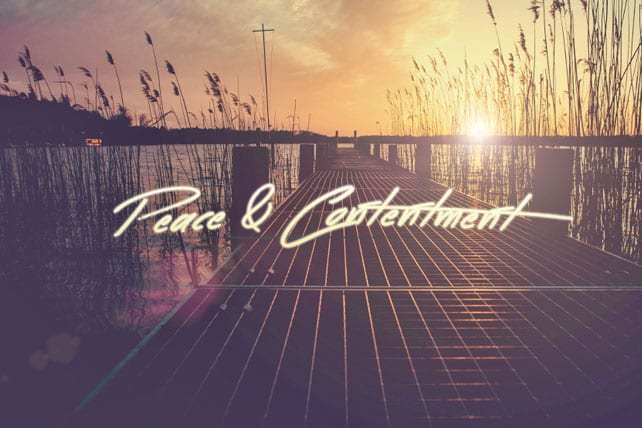 The secret to Christian peace and contentment is not a gnostic secret. It is not concealed knowledge only revealed to those who achieve higher degrees of holy enlightenment. This secret is hidden in plain sight throughout the Scripture and is available to anyone who is willing to believe it.
The Secret
God has not only gone public with this secret, but he invites us and longs for us to know it. He does not want us to merely know about this secret—not to merely preach it, explain it, enjoy the idea of it, or wish for it—but to know it by experience.
Jesus described the kind of experience he wants us to know:
"Therefore I tell you, do not be anxious about your life, what you will eat, nor about your body, what you will put on. … [For] your Father knows that you need them. Instead, seek his kingdom, and these things will be added to you." (Luke 12:22, Luke 12.30–31″>30–31)
Paul, from prison, shared his experience of the secret with all who would listen:
"I have learned in whatever situation I am to be content. I know how to be brought low, and I know how to abound. In any and every circumstance, I have learned the secret of facing plenty and hunger, abundance and need. I can do all things through him who strengthens me." (Philippians 4:11–13)
The secret to contentment is very simple. And it does not require heroic acts of piety. No, in fact it requires a childlike response from us. The secret is beautifully summed up in this phrase: "Trust in the Lord with all your heart" (Proverbs 3:5).
Could It Really Be So Simple?
Is it really that simple? Just trust God? Yes. So simple, but its reality is revolutionary.
God designed us to operate on trust. We are reasoning creatures made in God's image. But God did not make us gods; he made us in small measure like God. He did not give us his capacities to contain all knowledge and all wisdom. We only contain very small amounts of each. Nor did he give us his power to bring into being whatever we wish. Our power is very limited. God designed us to trust him in whatever knowledge, wisdom and strength he provides us and to trust his knowledge, wisdom and strength when ours reach their limits.