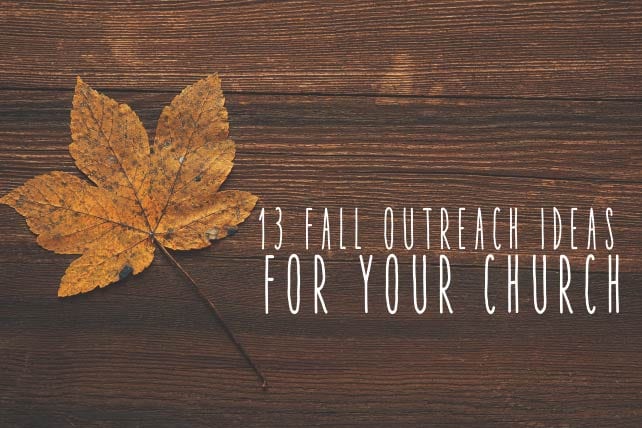 Are you looking for some fall outreach ideas to reach out to the community and invite people to church this fall?
Here are some of our favorite fall outreach ideas.
#1 – Write Thank You Notes to Teachers. This idea comes from Jeremy Roberts. Go to the website of a local school, print off the list of teachers, and have a group of volunteers write them handwritten notes of encouragement. Then deliver the notes, along with some cookies, on a teacher work day (or whenever).
#2 – Serve Day. Choose a day, invite everyone in your church and head into your community to serve. You can ask captains to organize and head up various projects. This is a great way to decentralize serving but maximize impact with everyone serving at the same time.
#3 – Work concessions. City Church in Tallahassee, Florida, has a team of volunteers to work concessions at local high school football games, a task usually done by parents of players. This way, parents can watch their kids play and enjoy the game night atmosphere with friends and family. They also host a kickoff event for high school football teams, bringing in a speaker and working directly with high school coaches. It's a big part of their community ministry.
#4 – Tailgating. Invite everyone to the church, neighborhood clubhouse or parking lot and watch a big college football game. You can make this a church wide event or let small groups do it around your city on a smaller scale. This could also work for a Friday night high school game.
#5 – Back to School Drive. Collect school supplies and deliver to a local school that needs them. And while most churches do this at the beginning of the school year, it could also make a difference later in the year when schools are running low on supplies. 
#6 – Date Night. Hire babysitters, childcare workers, or put on an event for kids while parents have a date night. You could give away movie tickets or work out a deal with local restaurant for an added touch.
#7 – Free Oil Change. It works like a free car wash and it's a great way to get mechanically minded people involved. Set up in the church parking lot and provide this service to the community. You might want to do a little bit of publicity ahead of time, particularly focusing on people who need this type of service. 
#8 – Picture Day. Some churches do this on Mother's Day in the spring, but it's really a nice thing to do anytime. Hire a professional photographer and set up in the church lobby and take family photos. You could also do this at a community event, carnival or festival. After you take the pictures, give people a small card with a website where they can go download their photos. You can invite them to church or an event on the page as well.
#9 – Parent Seminar. This might just be one of the biggest needs in your community…practical information on parenting. Offer training for parents on how to talk to your kids about technology, which is usually a big question parents have. Check out parentchat.com, a great resource for this.
 #10 – Family Movie Night. Move out the chairs and bring in some couches. Rent or borrow a popcorn machine. And put a fun, family movie up on the big screen. Make sure you let your church people know this is one of those events where they should bring a friend. And take note, you're going to need a license to show a movie.
#11 – Plan a big day. The fall is a great time to plan a big day. Think of all you do to plan Easter in the Spring and apply that to a Sunday in the fall. Equip your church with tools to invite their friends. Plan a message series designed to connect with the community. National Back to Church Sunday is September 17 and there are lots of resources available to help you promote it. 
#12 – Equip your people to invite. We've talked about this before, but throughout the fall, make sure you're equipping your people to invite, not just asking them to do it. You've got to give them tools. Print some invite cards or write Facebook posts they can easily share.
#13 – Try Facebook ads. If you've got a special event or a new series coming up, try Facebook ads. You can target a specific audience, and let's face it…most of your community is on Facebook. You'll probably find that a simple ad promoting one of these other events will work best. For example, target moms within 10 miles of your church and let them know about the movie night or the Parent Chat seminar. Target people who like a certain football team or are connected with a local high school to let them know about the tailgate party. You can get specific and be creative and it really works.
What would you add to this list? Hit reply and leave a comment.
Take a Next Step With Fall Outreach
We believe two things about church growth.
#1 – You don't have to sacrifice church health to experience church growth.
#2 – While growth is up to God, He wants us to be good stewards of our influence and uses us in the process.
If you're interested in healthy growth in your church, check out the Church Fuel One program. It's a community of pastors who value practical coaching and resources and encourage one another to grow healthy.
Every month, we deliver master classes to members covering topics like recruiting volunteers, connecting people, preaching, finances and more. It's just in time training for you and your team.
Members get access to a resource library full of documents, spreadsheets and templates. And there are members only office hours and round tables where you can get personal help when needed. If you've got one hour a month, Church Fuel One can help you lead your church to healthy grow.
This article about fall outreach ideas originally appeared here.
Read next: 100 Fall Festival Ideas