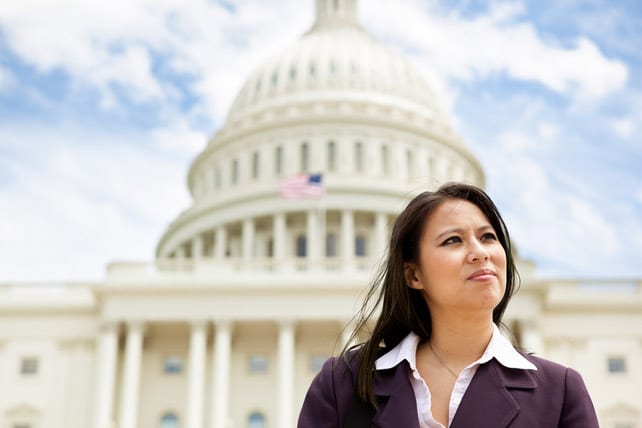 Unless we've been hiding in a box, most of us have started noticing a trend in our twitter feeds and daily news headlines: sexual harassment and assault have been running rampant. And it is far beyond Hollywood and Harvey Weinstein, though he seemed to open the floodgates.
It's also happening in our nation's halls of power.
The latest, Congressman John Conyers, is a member of the Democratic Party who chose to step down from his seat on the House Judiciary Committee after being accused of sexually harassing a female member of his staff several years ago.
It's evident that partisan politics simply don't matter here. When it comes to the mistreatment of women, men on both sides of the aisle are to blame. Women are trying to speak out against these abuses, but certain politicians seem eager to make this about party allegiance instead of victim protection.
This Sunday on NBC's Meet the Press, House Minority leader Nancy Pelosi discounted the accusers in a widely-panned interview—an interview from which she quickly backtracked. But in the moment, instead of speaking out against sexual harassment, she decided to remark on the importance of due process and to pay compliments to Congressman Conyers, a member of her party, for all he's done over the years to "protect women."
Yes, it's true. Unfortunately.
And if this sounds familiar, that's because it is.
Many remember that after Alabama Senate candidate Roy Moore was recently accused of child sexual assault, some (even most) Republicans were quick to condemn his alleged behavior.
For that I am thankful.
President Trump recently came to his defense, repeatedly arguing to reporters that Moore was denying all the accusations. He also made a conscious effort to point out that the Senate does not need another "liberal person" like Moore's opponent, Doug Jones, in office. And it appears that many voters may be swayed by this argument that the most important issue in play is holding onto majority control.
But that's missing the point of this moment. It's not about who is in the Senate. It's about serious and credible allegations of child abuse.