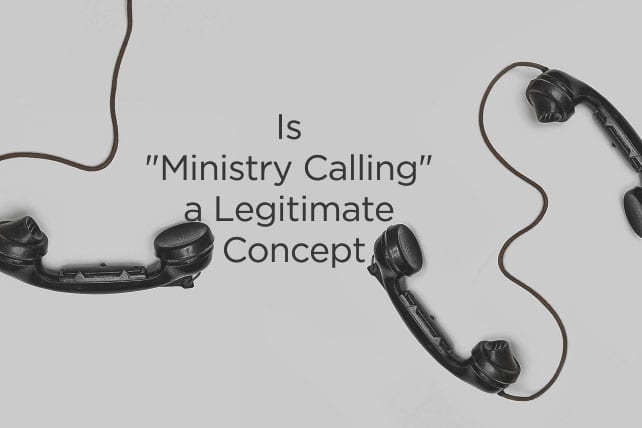 I've written previously about why my sense of calling matters. In that post, I described what I believe was God's somehow capturing my attention and re-directing my life in some supernatural way. I've also written about how I understand the breadth of that calling today.
Is "Ministry Calling" a Legitimate Concept
I'm also aware, though, that some folks are wrestling with/questioning the concept of "ministry calling" today, and I want to be fair to them. Here, at least from my studies, are some of their questions and concerns:
1. All believers are called to love God, love others and make disciples of all nations. These general calls of the Great Commission and the Great Commandment are for all believers, and any other sense of "call" is more a choice of a role to fulfill those callings than some unique mandate.
2. The callings in the Bible are for unique situations. To be sure, the Bible includes dramatic call narratives (e.g., Abraham, Moses, Isaiah, Jeremiah, Paul), but these leaders were uniquely situated in God's plan. Many other people have led God's people without such potent experiences. The latter would seem to be more the norm.
3. "Gifting" more than calling seems to be a primary way in the Bible to identify one's role in God's work. Romans 12 and 1 Corinthians 12 certainly focus on gifts that the Holy Spirit chooses to give to believers as He wishes. When we faithfully use our gifts, we effectively fulfill our "calling."
4. The qualifications for pastors and deacons in 1 Timothy 3 and Titus 1 are almost exclusively character-based, not "calling" based. It would seem that "inner compulsion" would have been more pronounced had calling been an expectation for these positions.
5. The book of Acts illustrates the church's role in setting apart leaders much more than leaders experiencing some sense of divine "calling." The Jerusalem church chose the men to serve widows (Acts 6). The believers at Antioch set apart Paul and Barnabas and sent them out (Acts 13). Scholars debate who appointed the elders in Acts 14, but there's no sense that they determined their own calling.
6. The concept of calling has produced an elitist professional ministry. This problem, some argue, at least suggests that any sense of calling to ministry is somehow overstated. At a minimum, calling has been misapplied so that it has become more individualistic than church-centered.
This article originally appeared here.