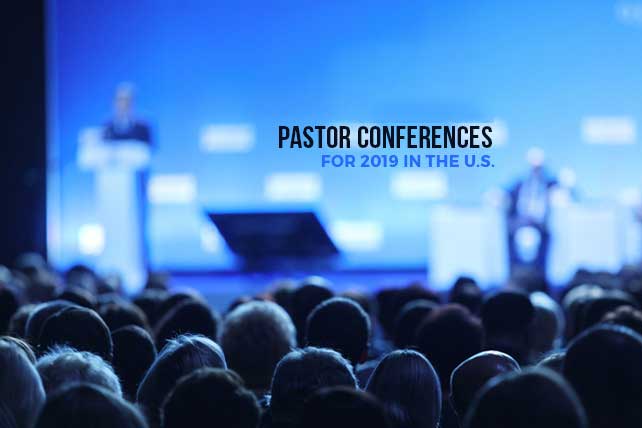 Top 35 Pastor Conferences for 2019 in the U.S.
We put together this list of the top 34 pastor conferences for 2019 in the United States so you, pastor and church leader, can get the training, refreshment, and encouragement you so deserve in 2019. This is a multi-denominational list in chronological order because the church is multi-denominational. Our hope is you find the training you need.
JANUARY 2019 PASTOR CONFERENCES
The Encounter Conference is the flagship event for Encounter Ministries where we seek to gather leaders of revival in the church to encounter God's refreshment, encouragement and impartation of greater anointing for ministry. Conference participants can expect an atmosphere of spirit-filled worship in the presence of God, mass, inspiring and transforming keynote speakers, breakout sessions, eucharistic adoration, a healing service, fellowship and many opportunities for prayer ministry and growth in the gifts of the Holy Spirit.
Dates: January 3-5, 2019
Location: Toledo, Ohio
Sponsored by: Encounter Ministries
Speakers: Jeff Cavins, Fr. Mathias Thelen, Neal Lozano, and more
The mission of the G3 Conference is to educate, encourage, and equip for the work of ministry and for the glory of God.  Our mission is built upon the foundation of the holy Scriptures and upheld by three pillars – gospel, grace, and glory.  It is our goal to see the people who attend the G3 to reach the neighborhoods and the nations with the gospel. Includes a Spanish conference on Wednesday, January 16th. 
Dates: January 17-19, 2019
Location: College Park, Georgia
Sponsored by: Heart Cry Missionary Society and others
Speakers: David Platt, John Piper, Martha Peace, Voddie Baucham, and more
Accelerate Pastors Conference is for pastors, spouses and associate pastors to be refreshed and refilled. The pressure and stress of day-to-day ministry can stifle your gifts. It is a time to get your gifts out of your head and begin using them again.
Dates: January 24-26, 2019
Location: Naples, Florida
Sponsored by: New Hope Ministries
Speakers: Grant Thigpen, Duane Sheriff, and Bob Yandian
Jacksonville Pastors' Conference
Join us in Jacksonville this January 2019 for a special time of mutual encouragement and equipping. Come and sit under the preached Word, and attend break-outs that are designed for practical instruction and collaboration. Bring along other church leaders for a time of fellowship that will be sure to spur us on to love and good deeds. Don't miss the annual Pastors' Conference at First Baptist Church of Jacksonville, Florida, and our inaugural Women's Biblical Counseling Conference, featuring Joni Eareckson Tada, on the topic of suffering.
Dates: January 24-27, 2019
Location: Jacksonville, Florida
Sponsored by: First Baptist Church of Jacksonville
Speakers: Albert Mohler, Matt Carter, Steve Gaines, H.B. Charles Jr., Bob Russell, and more
2019 Bethlehem Conference for Pastors + Church Leaders
The 2019 Bethlehem conference for pastors and church leaders has the theme: Gospel Joy: The Bold Pursuit of Pleasures Forevermore in Ministry. This three-day conference has pre-conference events, seminars (including Spanish-language and women's ministry sessions), and 7 plenary sessions.
Dates: January 28-30, 2019
Location: Minneapolis, Minnesota
Hosted by Bethlehem College and Seminary
Sponsored by: Crossway
Speakers: 34 speakers, including John Piper, H.B. Charles Jr., Luis Mendez, Mary Willson, and more
February 2019 Pastor Conferences
Christ Fellowship Conference is designed specifically for YOU to lead with excellence, empower the next generation and use your creativity to bring life-change to our world. Through inspiring speakers and various breakouts to choose from, you can expect not only to be fulfilled but also equipped. You will be resourced with the effective tools necessary to create and build a healthy culture within your church as well as help strengthen The Church.
Dates: February 6-7, 2019
Location: West Palm Beach, Florida
Sponsored by: Christ Fellowship Church
Speakers: Earl McClellan, Tom Mullins, Robert Morris, John Maxwell, Levi Lusko, and more
SE Calvary Chapel Pastor's Conference
An annual 3-day conference, hosted this year by Pastor Malcolm Wild at Calvary Chapel Merritt Island. The theme for 2019 is "The Riches of the Servant's Walk." 
Dates: February 18-20, 2019
Location: Merritt Island, Florida
Sponsored by: Calvary Chapel Merritt Island
Speakers: Joe Focht, Jim Gallagher, David Guzik, and more
We believe healthy leaders talk about the raw and real of leadership. C3 Conference is a two-day event where leaders from around the world gather together for intensive coaching, inspirational teaching, incurable learning, and intentional relationships to advance the Church!
Dates: February 20-21, 2019
Location: Dallas, Texas
Sponsored by: Fellowship Church
Speakers: Ed Young, Craig Groeschel, Chad Veach, Stovall Weems, Michael Todd, and more
More to your faith than belief, more to the church than attending an event, and more to your hope and imagination for what it looks like to tangibly join God in renewing and restoring your neighborhood and beyond. So we welcome you for the Cultivate Gathering in San Diego, Feb 22-23, hosted by the Parish Collective in partnership with like-hearted organizations like CCDA, Global Immersion, Thresholds and many more. We are part of a collective of grassroots gatherings all over the US, the UK, Canada and Australia, with a common passion to join what God is doing to restore our world as we inhabit our neighborhoods, towns and cities in the love of Jesus.
Dates: February 22-23, 2019
Location: San Diego, California
Sponsored by: Parish Collective
Speakers: Jonathan Brooks, Shane Claiborne, Alexia Salvatierra, Kindra Green-Carson, Leroy Barber, Jon Huckins, and more
You're invited to join Nelson and special guests for a memorable and motivational special event completely focused on equipping YOU to abandon average! Enjoy three packed days with your fellow Renegade Pastors full of encouragement, fellowship and eye-opening training!
Dates: February 27-March 1, 2019
Location: Orlando, Florida
Sponsored by: Nelson Searcy and Church Leader Insights
Speakers: Nelson Searcy, Pat Williams, Harold Bullock, and more
March 2019 Pastor Conferences
The Exponential Conference is the largest annual gathering of church planters on the planet. Every year, thousands of the world's church planting leaders come to Orlando to learn what's new and what's actually working right now in church planting. This year's theme is, "Made for More: Mobilizing God's People, God's Way." Join over 5,000 other leaders who are pursuing the paradigm shift of Mobilizing God's People, God's Way.
Dates: March 4-7, 2019
Location: Orlando, Florida
Sponsored by: Exponential
Speakers: Over 200 speakers in over 200 different sessions, including Francis Chan, Dave Clayton, John Mark Comer, Dave Ferguson, and more
The mission of the Shepherds' Conference is to provide the opportunity for men in church leadership to be challenged in their commitment to biblical ministry and to find encouragement together as servants of the chief Shepherd.
Dates: March 5-8, 2019
Location: Sun Valley, California
Sponsored by: Grace Community Church
Speakers: John MacArthur, Sinclair Ferguson, H.B. Charles Jr., Albert Mohler, Ligon Duncan, and more
NW MinCon started over 40 years ago as a "Christian Education Conference." It quickly gained the reputation as a conference of excellence, offering an incredible hands-on experience at an affordable price for teams and churches all across the Pacific NW. This conference is for pastors, technology arts, worship, children's ministry, and children's/family ministry.
Dates: March 29-30, 2019
Location: Bellvue, Washington
Sponsored by: Northwest Ministry Conference
Speakers: Rick Bundschuh, Jesse Campbell, Mona Furstenau, and more
April 2019 Pastors Conferences
The Gospel Coalition 2019 National Conference
To fan into flame our smoldering commitments to evangelize, we plan to think through a selection of Jesus's interactions with individuals and small groups—to listen in to conversations with Jesus. So at The Gospel Coalition's 2019 National Conference, the keynotes are devoted to thinking through a selection of "conversations with Jesus," in the earnest hope that they will spur us not only to gospel faithfulness, but also to gospel proclamation. Moreover, we are devoting some of our workshops to various facets of evangelism and apologetics, along with our usual wide range of topics.
Dates: April 1-3, 2019
Location: Indianapolis, Indiana
Sponsored by: The Gospel Coalition
Speakers: John Piper, Tim Keller, Jackie Hill Perry, H.B. Charles, and more
Catalyst West is a 2-day conference to help leaders like you build great churches, grow strong teams, and be a catalyst for change. At Catalyst, we come to work every day thinking about how we can best equip you to flourish right where you're planted. We're meticulous in choosing great speakers and worship leaders, and we curate every detail of the event to be life-giving, energizing, and fun.
Dates: April 4-5, 2019
Location: Orange County, California
Sponsored by: Catalyst
Speakers: Andy Stanley, Dr. Caroline Leaf, Ian Morgan Cron, Jamie Ivey, and more
Join pastors, church staff, and small group leaders who believe that the mission of the church matters. We've gathered some of the nation's best leaders to share their wisdom with you.
Dates: April 8-10, 2019
Location: Morton, Illinois
Sponsored by: Rural Home Missionary Association
Speakers: Lee Eclov, Duane Litfin, Ed Stetzer, Stephen Witmer, and more
Our goal is to see pastors and leaders encouraged, refreshed, and equipped to continue on the journey God has called them to. We hope that during your time with us, you will be able to relax, build new relationships, and leave more excited about this calling than ever before.
Dates: April 9-10, 2019
Location: Birmingham, Alabama
Sponsored by: ARC Churches
Speakers: None listed yet
To excel as Christian leaders in today's complex world we must be both deeply rooted in Christ, and strongly connected to one another. That's why the theme for The Outcomes Conference 2019 is "ROOTED." We are rooted in Christ, by examining our hearts as leaders, and prioritizing our relationship with Christ above all else.
Dates: April 16-18, 2019
Location: Tampa Bay, Florida
Sponsored by: Christian Leadership Alliance
Speakers: Santiago "Jimmy" Mellado, Michael Oh, Mandy Arioto, Skye Jethani
A place for church and industry leaders to thoughtfully navigate today's culture. From the ideas and current issues shaping society, to the truth that transforms the world, you will be informed and gain confidence that God is at work in his mission to renew all things. Education by thought leaders and stories from change-makers will inspire a hopeful way forward. Join us to be equipped for the difficult conversations and extraordinary opportunities that lie ahead.
Dates: April 24-26, 2019
Location: Nashville, Tennessee
Sponsored by: Q Ideas
Speakers: Frances Fitzgerald, Dr. John M. Perkins, Cassandra Dorsaint, Margaret Feinberg, Andy Crouch, Paula Faris, and more
International Pastors & Leadership Conference
The International Pastors and Leadership (IP&L) Conference is where thousands of entrepreneurs, intrapreneurs, and leaders will unite from April 25-27, 2019, in Tampa Bay, Florida. Over the span of three days, you'll glean deep insights on how to catalyze the greatest impact in your enterprise at this highly anticipated leadership conference.
Dates: April 25-27, 2019
Location: Tampa Bay, Florida
Sponsored by: T.D. Jakes Ministries
Speakers: T.D. Jakes, Craig Groeschel, Toure' Roberts, Bishop Dr. Pat McKinstry, and Cynthia "Cynt" Marshall