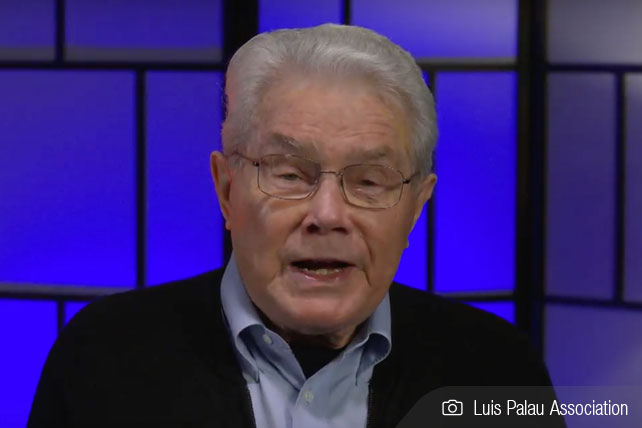 Even in the time of a global pandemic and his own health concerns, Luis Palau continues to preach the good news of Christ with a steady confidence that his 85 years on earth have fashioned in him. The evangelist, who has preached to thousands of people all over the world, believes that not only is this an opportune time for ministers to share the good news of Christ, but it is also ideal for the older generation of Christians to set an example of trust and wisdom for younger Christians.
"Talking about death is not an American thing, you know," says Palau, who is from Argentina originally but now lives in the Portland, Oregon area. 
In an exclusive interview with churchleaders.com, Palau said he has been paying attention to the news more than he usually does. He sees a unique opportunity for the church to reach people now that so much of our collective consciousness is focused on a topic we normally avoid addressing–that is, death.
Palau has had to come to terms with his own mortality in a more tangible way these last couple of years. The evangelist was diagnosed with stage four lung cancer in 2018 and told by doctors he likely only had about nine months to live. But, as he shared in a special Easter message that his ministry, Luis Palau Association, is releasing on Sunday, "the Lord has kept me a year and half longer than the doctors thought." Palau says his condition has stabilized and the last scans he underwent to monitor the tumors in his lungs revealed that they haven't grown even a centimeter since the last time he was scanned. 
For Palau, who witnessed his own father die at an early age and go to be with the Lord, death is not something he fears or spends a lot of time agonizing over. Palau, who has four sons with his wife, Patricia, says "The only sad thing about it is leaving her." 
And while the evangelist doesn't believe the coronavirus and the fact that so many people are dying from it is something to make light of, he does say that along with displaying wisdom by taking necessary precautions, older Christians have an opportunity to show younger generations how to trust God in these uncertain times. 
Older Christians Have a Lot to Teach Younger Christians
"I really think we have a unique moment to show, first of all, trust in the Lord," Palau says. Since his father died when he was just 10 years old, Palau says his ability to trust has come from God taking care of him faithfully since his father's passing. "The Lord has taken care of me every year." Additionally, that trust in God manifests itself in confidence in the face of death. "We need to show confidence in the living Christ and that we do believe that if I should get this virus and it's my time to go, hey, I'm going to be with the Lord and I'm at peace." 
Secondly, Palau believes older Christians are perfectly positioned to display the joy of the Lord. "Not that this is a joke and we're not making light of it, but on the other hand our joy is not dependent on outward circumstances." Children especially need to see their elders resting in the Lord, trusting him, and seeking him. Palau gave the example of Patricia taking a moment today to play some songs on the piano as an expression of joy. Palau, who says he often draws confidence from 2 Samuel 22:31, says now is the time to express our confidence that God's way is perfect and his word is flawless. In short, he doesn't make mistakes.
The third thing older Christians can teach younger ones by example at this time is making decisions and taking action with wisdom. He shared how he and his own family are being careful and "using prudence" during this time. For instance, his family is opting for a virtual Easter get-together with the assistance of Zoom instead of meeting together in person like they normally do. Wisdom, Palau believes, is perhaps the most neglected of virtues. And sometimes Christians neglect it as well. "We say foolish things to the media. We do foolish things that appear to be faith, but sometimes it's not faith–it's just foolishness."
Pastors Need to Keep It Simple This Easter
Another demographic Palau feels has a unique opportunity in this moment is pastors who will be preaching on Easter. "This is the best opportunity ever to proclaim hope," Palau says. The Christian hope, unlike any other, is a "living expectation" that preachers can share with other people. 
Palau encourages pastors not to be hesitant to address everyone's fears concerning death this Easter. "People are longing to hear the reconfirmation that eternal life begins on earth, yes, and we become children of God from then on. But then when your body shuts down and your soul and spirit leave your body, you're going straight to be with the Lord," he says, referencing Paul's words that to be absent from the body is to be present with the Lord. 
As people are concerned about themselves or their loved ones, "It's a great time to proclaim the resurrection." His cancer diagnosis two years ago led Palau to revisit the Scriptures concerning heaven. "As soon as you close your eyes, you'll be with Jesus and see him face-to-face," Palau explains. "When Jesus comes back, your body, soul, and spirit will all be rejoined together again. In the meantime, you'll come back with the Lord when he comes on clouds."