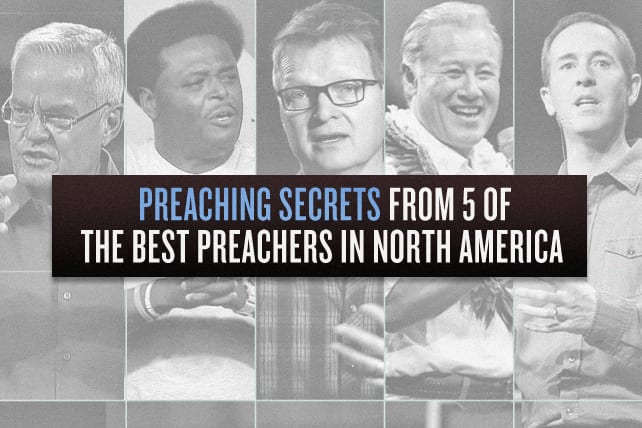 If you're a church pastor, you want the preaching secrets from experts because the art of preaching is something you work to perfect each week. And as with any art, you can always learn from master artists—those who've worked for years to preach life-changing and God-honoring sermons.
In this article, churchleaders.com pulled together some of the best preaching secrets from Bill Hybels, Derwin Gray, Carey Neiuwhof, Andy Stanley and Wayne Cordeiro.
Preaching Secrets from Bill Hybels
Bill Hybels is founder and senior pastor of Willow Creek Community Church with more than 25,000 in attendance. In his article "6 Surefire Ways to Improve Your Preaching," Hybels gives these six tips for preaching.
Listen to great preaching and teaching.
Most of us have two or three communicators who really inspire us…instead of listening to them casually, listen to them with your work gloves on.
Understand the dynamic of urgency.
If preaching is done right, you live with a text or topic for a week and it builds steam in your spirit. You're thinking about it, talking to people about it and asking that God will anoint it. So by the time you're ready to preach, this subject is the most urgent item in your spirit. If you've prepared properly, there is an urgency coming out of you that's not manufactured. That becomes compelling communication.
Strive for clarity.
When I coach our teachers around here, I always ask them two questions. "What do you want them to know? What do you want them to do?" If they can't answer those two questions immediately, I say, "You're ill prepared. Don't inflict that message on our people."
Perspire during sermon preparation.
Most of our preaching would improve greatly if we would discipline ourselves to put one more hour into it. Many preachers don't believe work enters into the equation of great preaching. But you don't become good at anything unless you've paid the perspiration price. You've just got to pay it. And when you discover how much you have to pay for the acceptable quality level, then that price must become the "given" in your schedule.
Evaluate your preaching.
If I have developed at all as a communicator in the last 25 years, much of it comes from request evaluations after every single talk I give. Every time I give a message at Willow, I have half a dozen people who will evaluate it… What worked well? What needed to be improved?
Live in union with Jesus.
Live in such vital union with Jesus Christ that his power and his might flow through your preaching.
Preaching Secrets From Derwin L. Gray
Derwin L. Gray is a former professional football player in the NFL and the founding and lead Pastor of Transformation Church in South Carolina. In the article "I Prepare My Sermons by Dancing," Gray reveals his six secrets to a perfectly choreographed sermon.
Pray before preaching.
When we pray before preaching we're saying to Jesus, "I need a revelation of You and I need Your power for my life and the lives of the people I'm preaching to."
Make your preaching Christo-centric.
If we don't preach Christo-centrically, the hearer of the sermon might conclude that Jesus exists to help them fulfill their dreams, instead of being agents that co-labor with Him so His dream—the Kingdom of God—can become a life-giving reality here on earth. Or we become moralistic preachers.
Know the content of Scripture and the context of the culture.
It's not enough to know the content of Scripture, we also need to know the people we're preaching to and the culture they're situated in. The gospel never, ever, ever changes, but the culture does. Therefore, we must be like an artist and paint a picture of Jesus and His redemptive work that hearers can see, feel and respond to.
Answer these three questions.
After I've done my exegetical, Christo-centric work, I ask myself three questions. Click here for Gray's three questions.
Keep it simple.
Preachers, remember that less is more. Focus your sermons on one big idea or theme. At the end my sermons, I have what I call a "Soul-tattoo." This is the one big idea that I want people to take home and do something with.
Let your sermon be an act of worship.
Finally, I pray that my preaching flows of out Jesus' transformative work in my own life. I pray my preaching is an act of worship in response to His wonder-inspiring grace.