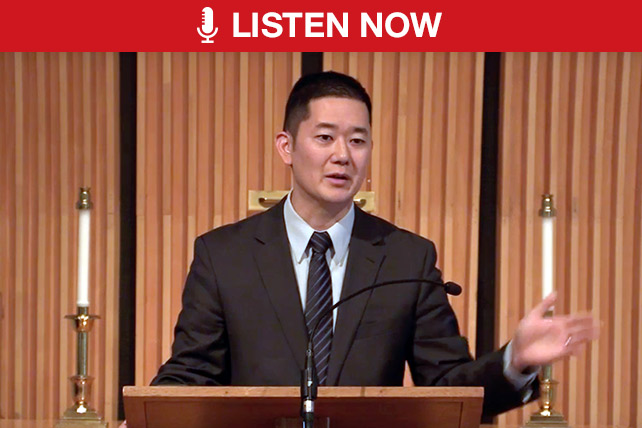 Dr. Matthew Kim is associate professor of preaching and ministry at Gordon-Conwell Theological Seminary. Dr. Kim preaches regularly in churches across New England, and he previously served as senior pastor of Logos Central Chapel in Denver, Colorado. He is the author of several books, including Preaching With Cultural Intelligence. Dr. Kim and his wife, Sarah, have three children.
Key Questions for Matthew Kim
How do you recommend preachers approach the text, knowing they have a personal theological bent?
Because of the rapidly-changing nature of our culture, do you think pastors need to pay greater attention to cultural intelligence?
Key Quotes from Matthew Kim
"Every person has a theological lens by which we read Scripture."
"How might someone who's from a different ethnic or cultural context…reading the text? What kinds of questions do they have that I might not raise as a Korean-American preacher?"
"As you look at different preaching textbooks, either they're really good about interpreting the text and offer very little about culture and vice versa."
"How are they thinking of me as the preacher and how can I establish rapport with them?"
"Sometimes we have a negative view of dreams, in terms of 'what do I want to do, what do I want to be?', but as we think about preaching, one of the things we're trying to do is disciple [people]…Dreams is really giving them a vision for what their life could be like in Christ as they pursue this passage and live it out to the fullest."
"If you have a very diverse church, think through the people you want to focus on today and move on to the next person every single week. Don't get overwhelmed by the 100 or 200 different types of people."
"Think about the diversity in your church. It's not just racially or ethnically, there are many different cultures and cultural perspectives people are coming from, whether it's political or even, for instance, male preachers preaching to women."
"Intelligence of culture goes beyond just physical appearance. There are many different areas of culture that we need to consider as pastors."
Mentioned in the Show:
Preaching With Cultural Intelligence
Biblical Preaching by Haddon Robinson
Christ-Centered Preaching by Bryan Chapell
Gordon-Conwell Theological Seminary
mkim@gcts.edu