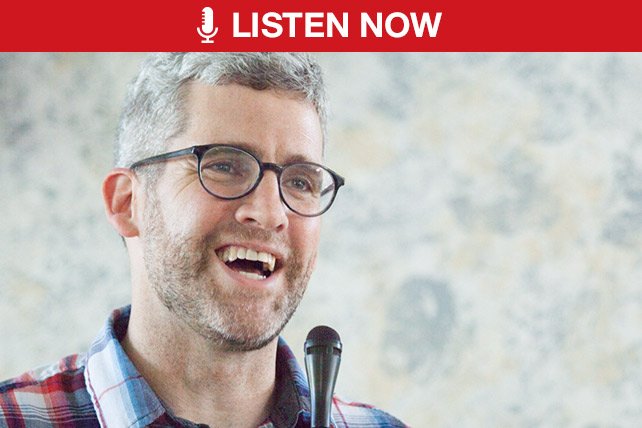 Kent Annan is director of humanitarian and disaster leadership at Wheaton College's Humanitarian Disaster Institute and cofounder of Haiti Partners, a nonprofit focused on education in Haiti. He also serves on the board of directors of the Equitas Group, a philanthropic foundation focused on ending child exploitation in Haiti and Southeast Asia. Kent received his MDiv from Princeton Theological Seminary. He has written a handful of books, including You Welcomed Me. He speaks regularly around the country and lives in Florida with his wife and two children.
Key Questions for Kent Annan
– What are the common fears you observe in the United States concerning refugees and immigrants?
– What lessons can we learn from other countries that have received more refugees than we have?
– From your research, do refugees and immigrants help or hurt the nations that welcome them?
– What can the local church do to help the big picture of immigration?
Key Quotes from Kent Annan
"Our fear is being stoked about the foreigner."
"The Refugee Act was passed in 1980 and since 1980 there's not been a single terrorist attack by a refugee that resulted in American life lost."
"Neighborhoods where there's a large immigrant population actually have less crime statistically throughout the country than neighborhoods that don't have any immigrant in them."
"I think security can become a kind of idol."
"If we build up walls and protections around us to keep the stranger out, then I think, according to what Jesus says, we're keeping Jesus out [Matthew 25]."
"When we welcome refugees, when we use a system that's been put in place by our government, it actually has a really positive impact on our own government. So, for instance, on a national scale in the past decade, refugees brought in 63 billion dollars more in government revenues than they cost."
"It is not an easy path [for refugees and immigrants]. It's a path that, for the most part, they feel forced into for the sake of their families and for the sake of trying to make a future for their children."
"Someone who's paying a price, willing to work hard, and then making our communities better and helping out their own families–those are the kind of people I want as neighbors, and I'm excited to see when they have a chance to thrive."
"I'd rather be a little too generous and say 'oh we need to pull back, that's too much and our country can't handle that so we need to pull back and find the right balance" vs. saying 'let's not have anyone come in because there might, somewhere in the future be a danger in some way.'"
"I think one of the problems we're seeing…is people other than the church are discipling normal people's day-to-day view of immigrants and refugees. And we don't want that discipleship to be turned over to news, on either side of the aisle."
"This is a discipleship issue."
"[When we welcome refugees] We're not just entering into a political discussion. I think we're giving people a beautiful vision of life."
Mentioned in the Show:
You Welcomed Me: Loving Refugees and Immigrants Because God First Loved Us
Welcoming the Stranger by Matt Soerens and Jenny Yang