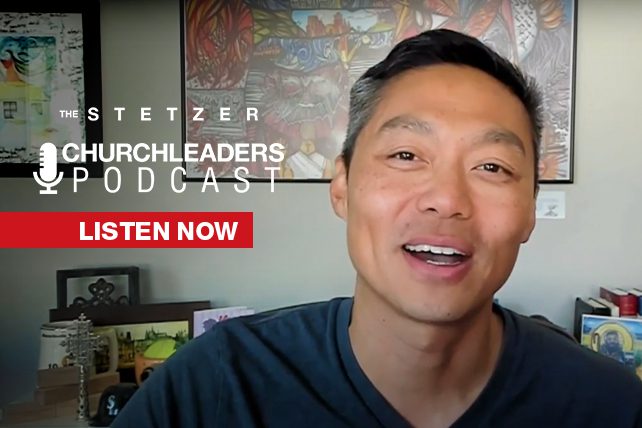 Rev. Dr. James Choung serves as Vice President of Strategy & Innovation—overseeing evangelism, discipleship, planting, growth, missions, multiethnic initiatives, and the Creative Labs—at InterVarsity Christian Fellowship USA. He is also ordained with the Vineyard USA and has written three books, the latest being "Longing for Revival: From Holy Discontent to Breakthrough Faith." James is a featured speaker at the Amplify Outreach conference on Oct. 19-20, 2021. For fun, he likes to travel with his wife, laugh with his two sons, spoil his daughter, bask in Los Angeles' endless summer, and swing a racket in hopes of playing something like tennis.
Other Ways to Listen to This Podcast With James Choung
► Listen on Apple
► Listen on Spotify
► Listen on Stitcher
► Listen on YouTube
Key Questions for James Choung
-Why did you write a book about revival, and how have you seen God bring revival about in your own ministry?
-How can we avoid treating revival as a formula where if we take certain steps we'll get certain results?
-Part of the challenge is that it seems that sometimes in great revivals, there are unhealthy and toxic people, along with explosions of growth. How do we understand those situations?
-What are you seeing now that encourages you for revival in the U.S.?
Key Quotes from James Choung
"Ryan, the co-author of "Longing for Revival," and I met and we saw God move in San Diego in our ministry…Almost at its peak, there were about 650, 700 people that we knew were following Jesus. You know, we knew their names, we knew their stories…It ruined us in a way because we saw that we can do it. God can do it. It was possible."
"For us, 'revival' is 'a season of breakthrough in word, deed, and power that ushers in a new normal of kingdom experience and fruitfulness.'"
"There's a lot of fear around revival. You know, are we just trying to stir up the emotions, trying to get people excited about something again?"
"We don't manufacture a revival. Revival is always a work of God."
"Aren't we going to, in some sense, one long, unending revival at some point when all of history is written and done?…And if that's the case, then as we long for revival now we're actually in this line of a long history and we're responding to what God is doing in it."
"Who is actually doing the revival is pretty crucial."
"A lot of revival leaders can get kind of strident, some because of the fruit of their ministries can sometimes be abusive."