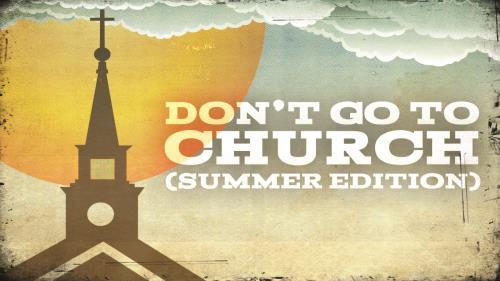 Many churches experience "the summer slump," where attendance, giving, and participation might decrease. Use these powerful sermon and worship resources to beat the summer slump. Read more…
You'll find these sermons and more…
We are strangers in this world, on vacation in a foreign land, with advantages the natives of this world don't even begin to understand. But do we realize what those advantages are, and what difference those blessings can mean to our lives?
2. Knowing Your Season and Its Fruit
God said that as long as the earth exists, seasons will also exist. Somewhere there will always be a summer, fall, winter and spring and thus we will continue to live our lives according to the seasons.
3. Beating the Summertime Blahs
Summer takes its toll on church attendance. The truth is that we still need one another even when the world is calling you to a season of recreation.
What Would Jesus Do… with regard to vacations, hobbies, sports, amusements, break-times, fun & relaxing activities? For the answer, we take a trip back 6,000 years…
I've got friends who are pastors and on staff at churches all around this country, and at some point during the months of June through August…they face the same thing. I'm not saying that it is ok; but I am saying that we are not alone. So, is it possible for us to avoid the "Summer Slump" and still enjoy the summer?
6. How to Kill a Church Without Trying
Many churches find themselves in the predicament of not growing as the Lord would have them to do. When this happens many reasons are given and blame is placed on this person and on that person, usually without foundations.
It is terrible and tragic to have access to your blessing yet you are blocked by your curse. For it is true that countless individuals who call themselves Christians live a seemingly picture perfect existence that appears to be marked by blessings, joys, serendipities, pleasures, and grace gifts; but in reality—from God's perspective, the Word's promise, and eternity's point of view, they are stifled, held back, and handcuffed by the misery of their curse.
The image of Jesus as a shepherd is one that has been captured by artists and poets throughout the years. The picture of Jesus sitting in the midst of a flock of sheep with a lamb on his shoulder, captured in stained glass, has adorned many a church building. But what does that image of Jesus mean?
Micah longed for the time when righteousness would reign once again in Israel. He felt as though the was living in the time of gleaning the fields instead of the time of great harvest.
Media
10. PowerPoint Package: Church Attendance 
Increase your church attendance with a message on the importance of a church family using these colorful backgrounds. Perfect for Back to Church Sunday.
11. PowerPoint Package: Summer Palms
Use this colorful Summer-themed media to enhance your next worship service or other community gatherings. A font file is included for simplified customization.
12. PowerPoint Package: Summer Mission Trip 
Use this captivating media to help promote your church's upcoming mission trip and to encourage members of your community to sign up. A free font file is included for simplified customization.
13. PowerPoint Package: Summer Events 
Summer is here! It's a great time to get your congregation together over shared meals, shared events, and shared interests. Use this 'Summer Event Pack' to promote fellowship in your congregation. Use one image or all the images to promote your plans and get your church engaged.
14. PowerPoint Package: The Time is Now
Use this background set to talk about the importance of using time wisely and making urgent spiritual decisions.
15. Video: Don't Go to Church (Summer Edition)
It's Summer! Time for vacations, sunshine, and trips to the beach. Time to let your Bible collect some dust and maybe sleep in on a Sunday. After all, you've worked hard. You deserve a church break…right? This summer, don't ignore the God who has never once ignored you. It's summer…see you at church!