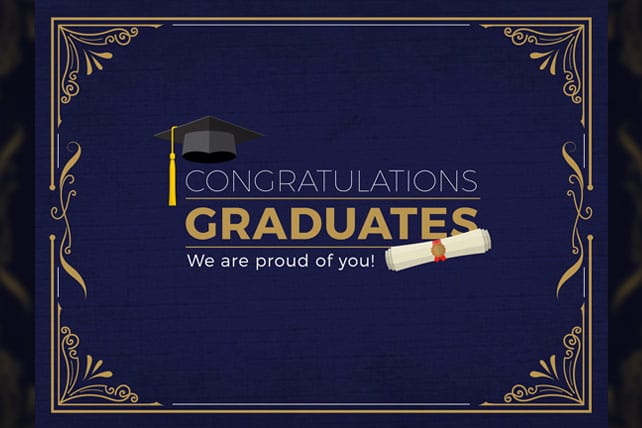 Send off your graduates with godly wisdom that will help anyone who is entering a new chapter of their lives.
Graduation Sermons
1. Fight for Your Dream, by Mark Batterson
You have gifts and abilities that you aren't even aware of, but they are often buried beneath perceived weaknesses. In those disadvantages, dreams are playing hide-and-seek.
2. Winning With People: Offer Your Very Best, by John Maxwell
Epaphroditus would be considered one of the "nobodies" in scripture. He never wrote a book in the Bible, nor is he mentioned anywhere else. He never had a statue erected in his honor or became famous for his accomplishments. However, Paul called Epaphroditus a hero.
3. I Quit Making Excuses, by Herbert Cooper
One thing that I'm convinced of, is that I haven't arrived yet. I haven't accomplished all that God has for me; And you haven't either. The fact that we're still alive means God has more for us.
4. Discover How to Build Your Life 
Instructions from Jesus on how to build your life – used on Sunday we honored our graduates.
Today we are going to recognize those who have been promoted and those who have graduated and reached a new milestone in their lives. This sermon encourages us to avoid taking shortcuts to get things at the expense of our spiritual lives.
6. Graduation: Don't Sell Your Birthright
This is a graduations service. Let me ask you a question: Do you treasure your relationship with Christ above all other relationships? Is Jesus more important to you than anything else?
Moving forward involves stepping. We are all familiar in the saying "A journey of a thousand miles begins with a single step", and I know we all agree with that. Graduating seniors, I'm happy to share to you one of the greatest stories in the Bible that we all can learn from.
A short message for the graduates to remember as they end one season of their lives and begin another.
A graduation message about remembering, building, and perfecting.
Media for Graduation
10. PowerPoint Package: Congratulations Graduates 
Graduation is a major milestone in life. Use this media to show your support for the accomplishments of the students in your youth ministry and to encourage them in their next steps.
11. Video: Graduation Recognition 
A video celebrating graduates.
12. PowerPoint Package: A Successful Graduate 
Congratulate the graduates in your congregation and instruct them in the way they should go using these celebratory images.
13. PowerPoint Package: Graduation Celebration
Use this media to celebrate the graduates in your community as they complete a major milestone in life and launch into a new season. A font file is included for simplified customization.
14. Video: Dear God (A Graduation Prayer) 
They grew up too fast, didn't they? After years of following in our footsteps, our prayer today is that they would follow in God's. Yesterday they were just a child, but today they graduate. As they step out into the world, we pray for God to light their path and guard their hearts. Today, we are grateful for the privilege of raising God's creation!
15. Video: Beacons of Christ (Graduation) 
No matter how old you are, God can use you. Based on
1 Timothy 4:12
, this mini-movie challenges the youth in your congregation to set an example for all believers in what they say and in the way they live. Perfect for Graduation Sunday!