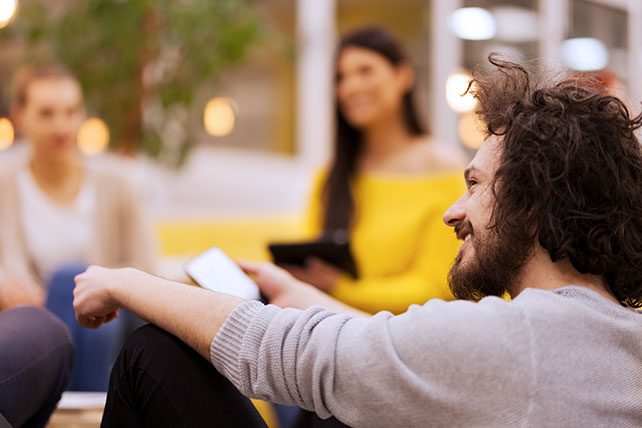 Awkward conversations in small groups are uncomfortable! It doesn't take long in a group setting for a challenging conversation to take place. Leaders should be ready to guide awkward conversations in small groups toward fruitfulness.  When the discussion is not on task it becomes easy for others to check out.
Rather than wondering what you should have said or what others must have been thinking, be proactive in leading the conversation by keeping the following tips in mind:
Awkward Conversations
1.  Pray For Wisdom In the Moment.
Additional prayer is always good but especially when a discussion begins to take place that enters into deep waters or controversial subjects. When conversations get awkward start praying. Ask God for wisdom, truth, and discernment.
James 1:5-6 If any of you lacks wisdom, you should ask God, who gives generously to all without finding fault, and it will be given to you. But when you ask, you must believe and not doubt, because the one who doubts is like a wave of the sea, blown and tossed by the wind.
Knowing when to continue awkward conversations or to stop them (and what to say) requires the wisdom of God.
2.  Is The Discussion Fruitful?
Another way to determine if a conversation is worth continuing is by asking yourself if it is fruitful? The following scriptures provide boundaries for the conversations that we engage in. Although a topic may be ok, it's important to determine if the conversation is producing spiritual fruit.
Philippians 4:8 Finally, brothers and sisters, whatever is true, whatever is noble, whatever is right, whatever is pure, whatever is lovely, whatever is admirable—if anything is excellent or praiseworthy—think about such things.
Galatians 5:22-23  But the fruit of the Spirit is love, joy, peace, forbearance, kindness, goodness, faithfulness, gentleness and self-control. Against such things there is no law.
Even though specific subjects may not be inherently wrong, pay attention to the manner in which it is being discussed. Also, is it relevant to the group and not just an individual. Awkward conversations in small groups are no fun, for anyone!
Pay attention to the group dynamics and be observant of the demeanor of those in your group. Doing so will help you to know when it's time to move on for the good of the group.
3.  Balance Everything With The Word Of God.
Ultimately, God's Word should always be the source that we use to uphold teaching and ways of thinking. The Bible helps us to know God and His heart in a deeper way and to equip us to live according to it.
Philippians 1:9-11 And this is my prayer: that your love may abound more and more in knowledge and depth of insight, so that you may be able to discern what is best and may be pure and blameless for the day of Christ, filled with the fruit of righteousness that comes through Jesus Christ—to the glory and praise of God.
2 Timothy 3:16-17 All Scripture is God-breathed and is useful for teaching, rebuking, correcting and training in righteousness, so that the servant of God may be thoroughly equipped for every good work.
How have you handled awkward conversations in small groups?  Have you found yourself applying these principles as you lead small group conversations?
This article on awkward conversations originally appeared here, and is used by permission.