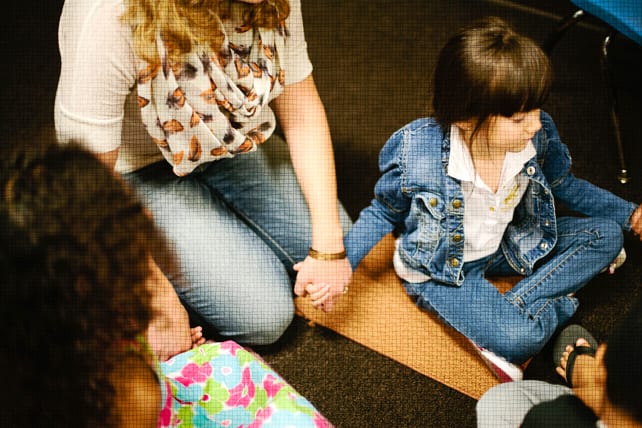 One of the many challenges that Community Groups face is how to handle children in the community. We have a key conviction that children should be included and seen as members of the Community Group.
This means they are seen as members of the community that need to be discipled with the gospel as we seek to be a community on mission. If we don't count the children, then we could easily find ourselves in the situation one of our Community Groups faced where there were 14 adults and a total of 16 children. That's 30 total people that must be considered and accounted for in order to even meet as a Community Group, but they only considered their group as having 14 people.
In New York City, there are no apartments that fit 30 people, and even if there were, 16 children in one apartment is asking for chaos and destruction. It became unmanageable and impeded the ability of the Community Group to care for one another and be on mission together.
Church Community as Family
The scriptures discuss the church community as a family and we all know the extended family is involved in raising and developing the children. When you move beyond church as an event into church as a family we discover the blessing of including children in Community Groups.
The children are given models of the Christian life other than their parents in all walks of life with varying pasts that educate them on the paths and careers they would want to pursue. The various spiritual gifts, talents and resources in the church are displayed for them inside of a community that is seeking to love Jesus most and to love them.
If I had never been shown how to parent by a family before I had kids, I would have been a dramatically different, likely over-protective and fearful parent. But I was handed a 3-month-old when I was a 23-year old single man and given a bottle to feed her at dinner with the community I had just started being a part of, and I am so thankful for this education. I was able to see the good and challenging parts of parenting, as well as the discipline and delight of parenting that led me to see children as a blessing.
There are so many people in the church who have never seen a family try to display the love and grace of Christ to their children. Many who were not shown this by their own parents and are left trying to figure it out. When we seek to integrate children, we bless the family and the kids, but we also bless every member of the community that is able to learn from watching parents who seek to love their kids.
What most people consider in how to include the children in Missional Communities/Community Groups conversation is the actual formal meeting time. Every missional community has a time set aside where they meet (let's call this the formal time) and then they spend time together outside of this time (let's call this the informal time).
During Community Group Formal Meeting Time
As I've considered this question with our Community Groups, I really believe there are three primary options, but with each option it must be considered how the children will be shown truth, have fun and experience the love of Christ. The three options are babysitting, family integration for part of the Community Group or family integration all the time. Each of these requires their own intentional focus for the specific time the group meets. But this also point us back to the reality that we must stop viewing church community as an event to attend once a week, but a community rhythm we live throughout the week.
Babysitting
When it comes to babysitting, I've seen two approaches that can be used depending on your circumstances.
The first is the church offering to pay for babysitting. I've seen a church successfully hire their Sunday morning volunteers to be babysitters during the week. This intentional connection builds the relationship of the Sunday morning teacher with the children further and connects the volunteers with the families. The babysitters enter into the life of the families and free the parents to engage in the Community Group meeting.
The second is a rotating volunteer approach. Some Community Groups do this by having the kids meet at one house, others choose to have them in another room, but each week someone from the Community Group rotates to babysit as their way of serving the community. An easy and intentional way to bring Christ to the kids is to use the Jesus Storybook Bible or continue kid's ministry curriculum being followed on Sundays. This can be an amazing way for a community to serve one another while learning to disciple each other's children.
Family Integration for Part of the Community Group
This is orienting the Community Group so that children are included for parts, but not all of the time. This might cause you to change your Community Group meeting time to Saturday morning for a big family breakfast or a more family friendly dinner time. This forces a community to learn to let all of our conversations be rooted in the gospel even in the midst of our children. All too often we allow children present to prevent us from discussing spiritual matters, but much of discipleship happens in the moment especially with curious children that want to be like adults.
In this approach, a Community Group could include a time focused on teaching the children while having another time utilizing babysitting to have fun, know God and extend the love of Christ to children.
Family Integration for All of the Community Group
This is the commitment by the Community Group to reorient everything so that children are always welcomed. This must be a shared vision of the entire community desiring to extend Jesus' love to the children to practically work.
It is always good to consider what about your Community Group would have to adapt to include children. The conversations would likely change, the setting would likely be more informal and having encouraging or challenging conversations will have to become normal in the midst of chaos. This will also force the accountability times and even some of the prayer times to be different throughout the week.
For this to be a reality, the community will eventually learn to have a conversation that is broken up by the cries and requests of kids. This challenges the typical view that children are an interruption rather than a blessing to our lives. If you ever want to extend the gospel to a parent, you are going to have to eventually be able to communicate with them while they have their kids climbing on them and hurting themselves.
Everyone Benefits by Including Children
The benefits of this mindset are many. I know from experience that my children benefit greatly, have more joy and more obedience after they are around a number of people who love them. For it to be a community that is also seeking to love Jesus most assists me greatly as a father to share my faith with my children in a natural way.
But this not only benefits the children, the entire community is changed and blessed by this key conviction. This provides a window to gospel-centered family, teaching singles and young marrieds how to be parents and to grow spiritual, gospel-centered children. This could open up singles to adopt and pursue parenting children before society tells them they are ready. Parents benefit from what I mentioned before, receiving help in extending the love of Christ to their children from a wider community.
This continues to be a challenge for us, but our convictions are leading us to explore different options, challenge the notion that we must outsource children's ministry to professionals, and we are continuing to learn.
What have you seen happen when trying to integrate children into missional communities?