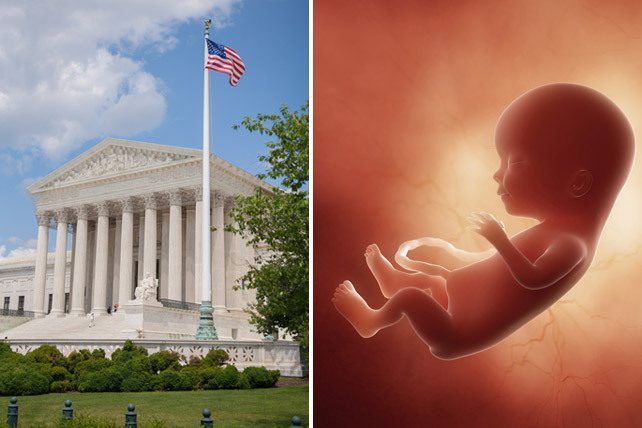 On May 2, Politico dropped a bombshell, leaking the contents of an initial draft of the majority opinion from Justice Samuel Alito on the challenge to Roe v. Wade, which appears to indicate the impending overturn of the landmark ruling that made abortion legal across the United States.
The article reported that justices Clarence Thomas, Neil Gorsuch, Brett Kavanaugh and Amy Coney Barrett voted with Alito in conference. 
While it is important to remember this is a draft, and that the final ruling of the court will not come until the end of term this summer, the content of the draft indicates that the overturn of the historic 1973 ruling is a significant possibility.
In the draft, Alito stated: "Roe was egregiously wrong from the start. Its reasoning was exceptionally weak, and the decision has had damaging consequences."
Alito is right, but this leads us to the question: what are Christians and other pro-life people to do now? How should we respond? 
As one who is passionate about justice, for the born and the unborn alike, I'm thankful that we may soon see the fruit of five decades of hard work from the pro-life movement. But there are three realities we should consider if and when such a momentous occasion transpires.
1. Overturning Roe will not be the end of the pro-life movement; it should be the beginning of a more robust, expanded pro-life movement and ministry.
This is an essential moment, especially for those of us in the church, to double down on our commitment to women and their children, both unborn and born. It is a myth, and a myth that is often weaponized, to say that Christians don't care for children after the baby is born. 
Let's prove the naysayers wrong with our actions. 
For example, our Catholic friends have the largest social service work in the country outside of the government. And, like us, they are deeply concerned about the unborn. Should Roe indeed be overturned, rather than packing up and going home, we should intensify our commitment to abortion alternatives that support and come alongside women who find themselves unsure, frightened, and concerned. 
Supporting alternatives such as pregnancy care centers like Care Net is crucial. That's why I'm thankful I've had the privilege of partnering with Care Net on more than one occasion to bring awareness to how well they minister to women in crisis. This is an opportunity for us to be engaged. 
What's more, a post-Roe pro-life movement should be passionately supportive of and involved in foster care and adoption. It is, after all, the care of orphans and widows that the brother of Jesus called "pure and undefiled religion" (James 1:27, ESV). If we took our command to look after foster children and adoptive children to heart, evangelicals in America would be able to meet the need of virtually every child waiting for a home in this country. 
This is an essential moment. 
2. Don't believe the misleading media coverage that is to come.
You can be sure that pro-choice advocates will be loud and persistent in their efforts to paint the overturn of Roe as a regression of women's rights or the return of some ill-defined medieval standard of healthcare. 
But let's be honest about this and look at the facts. 
For example, if abortion were limited to 15 weeks, U.S. policy concerning abortion would be more aligned with most nations in Europe. Don't believe otherwise. 
The media coverage will be unfair and overwhelming in the next few weeks. We have seen from past coverage that there is a heavy bias within most media outlets to strongly favor unfettered abortion access. 
Entire articles will undoubtedly be written without quotes from pro-life advocates, painting fringe views as the norm within the movement, and implying that the only sane and valid viewpoint is the pro-abortion stance. But that is simply not true. You're going to have to be ready for the onslaught of overwhelmingly negative coverage. 
Responses to the potential ruling have already demonstrated the failure of our society. Emblematic of many responses from political leaders who support abortion, Illinois Governor Pritzker tweeted:
For a party that claims to be about freedom, Republicans can't wait to deprive millions of women the right to choose. As long as I'm governor, Illinois will stay a beacon for reproductive freedom. We won't go back.
Of course, this line of thinking is conveniently silent on the freedom of unborn children.
Yet worse than ignoring the rights of the unborn is appealing to some unfounded and offensive slippery slope that would put America on the road to a theocracy. The Chicago Tribune offered a perfect example, suggesting that reversing Roe v. Wade "will establish a precedent for gutting the legal underpinnings used to protect against gender-based discrimination overall including women's rights, trans rights, immigrant rights, and of course, the right to same-sex and interracial marriage."
For all the accusations that evangelicals are ruled by hyperbolic fear, it's odd how consistently and pervasively this kind of rhetoric is featured in media reports.
3. The pro-life movement can and should result in changed laws.
Let me be clear: Christians should care about changing both laws and hearts.
Regarding laws, Christians have a responsibility to be advocates for justice in society. At times, this means lobbying for legislation regarding immigration or prison reform, while other times it means standing for broad cultural changes that address systemic racism. Our faith does not allow us to be passive bystanders to injustice but requires us to sacrificially and boldly stand against it. 
The pro-life movement has always recognized that at the heart of the issue is a profound unjust law that strips the rights of the unborn. At its best, the movement centers these voices that cannot advocate for themselves as the victims of some of the most profound injustice of our society. As I pointed out in January, 
Well, now it's time to be pro-life, from the womb to the tomb. That includes addressing our unjust laws about abortion, and doing it now.
If you have been lulled into thinking that United States abortion laws are normal, they are not. Abortion laws in America align with a group of only seven nations, all of which are far out of the global mainstream, including North Korea and China. Here's a Washington Post fact check if you are quick to disbelieve this.