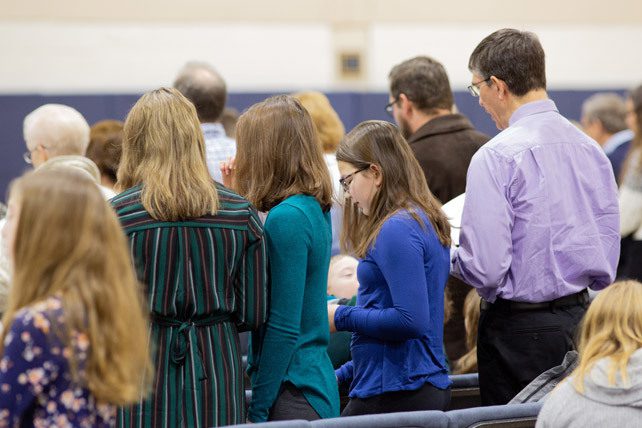 When the COVID-19 pandemic spread throughout the world, it forced massive changes in how people lived their lives throughout 2020 and 2021. For Christians, this included changes in how the Church lived in community with one another, as well as how it served and ministered to the contexts in which God has placed it.
So in the Summer of 2021, mission practitioners from around the world gathered virtually for the Lausanne Diaspora Summit, to understand the impact of the pandemic on missional engagement around the world. Sam George and Bulus Galadima, who both serve as Catalysts for diaspora for the Lausanne Movement, edited the insights from that meeting into a new book called Pandemic, Migration, and Mission: Global Reflections for Christian Witness. Sam George is also serves with me at the Billy Graham Center at Wheaton College as the Director of the Global Diaspora Institute.
The following is the third installment in a four-piece series containing excerpts from contributing chapter called "Impact of the Pandemic on Missions in North America." In this piece, I discuss how the church in North America responded, for better or for worse, to the challenges of the pandemic.
Make sure to read Part 1, Part 2, and Part 4 in this series, as well.
Church Response
We can look back at church history to see times when the church responded heroically and prophetically in dark times. In Acts, the fledgling church in the face of persecution continued to proclaim Christ while also caring for those in need (see Acts 4:23-35). In the fourth century A.D. historian Eusebius wrote of the church's response in a time of plague: "all day long [Christians] tended to the dying and to the burial, countless numbers with no one to care for them. Others gather together from all parts of the city a multitude of those withered from famine and distributed bread to them all." He added the impact of this on those who saw the church's response: "The deeds of the Christians were on everyone's lips."1
How has the church responded today?
First, and sadly, churches in North America have not stepped up to be a consistent and uniform prophetic voice during this turbulent time. Of course, some churches have done this very well and I am grateful for their boldness and conviction. However, this is not the consistent witness of Christian churches in the United States and Canada—and our congregations have taken note. When we consider all these events together and examine their impact on the broader culture, we find a culture of scrutiny. 
Naturally, some of the scrutiny is warranted, but some scrutiny arises on account of failure to comprehensively affirm or deny current events as they occur. This creates a remarkably difficult situation for Christian ministry leaders. Every word and phrase is being scrutinized, and in turn, everything we say (or forget to say) can be attacked. People are keeping score. For example, if you mention the Capitol riot but you do not mention the summer riots, people notice and will point it out. 
Next, we have a phenomenon I call the "Great Sort." North Americans are reorganizing themselves into churches that align with their political positions. While this phenomenon has happened in more isolated instances before the pandemic, COVID-19 marks the beginning of its wide-scale implementation. The temptation here may be to assume that people are looking for new churches because they are being offended by the church or pastor. While that may be happening, it is certainly not in a majority of cases.
Rather, people are listening to how their pastors minister and preach during this time, discerning their congregations' attitudes toward social issues, and evaluating whether their own beliefs match the portrait of the rest of the church body. 
As a result, the remarkable political and social division right now also impacts churches across North America. People are being discipled by cable news choices and sorting themselves out into churches based upon their rights as an American/Canadian citizen rather than as a citizen of God's Kingdom. They want their cable news-discipled ideology to be their first choice even before their church's theology. This ideology quickly becomes the litmus test for faithfulness to God and the Bible. North Americans are changing churches because of their politics when we should hope that they may change their politics because of their Church's witness. 
Canadian and American churches are coming back at lower percentages on account of all these things. Very few churches are larger than they were before, but some are. The "Great Sort" concerns COVID-19, ideology, politics, social issues, and race and ethnicity. Witnessing this process has been grievous to me and many others in the North American Evangelical church. We do not need to agree on all of these issues to realize that walking faithfully through this time has been remarkably tumultuous and turbulent for myself, church congregants, and pastors. Despite the division and difficulty of the pandemic, the resilience of the church is a sure testament to God's faithfulness to his people. 
1 Eusebius had a letter by Dionysius as his primary source. See Eusebius of Caesarea's The Ecclesiastical History: Book 7, chapters 22-23.