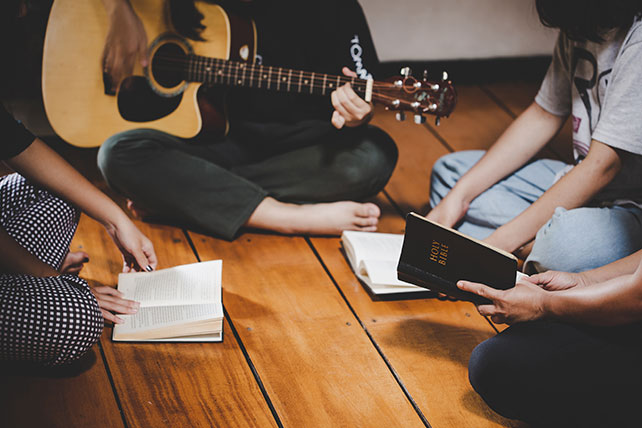 At the age of 10, I had the privilege of serving as an acolyte in my family's small United Methodist Church. The acolyte is the cherubic little boy or girl that lights the candles on the altar with a long, arched, golden pole, symbolically declaring at the appointed time that "Gathered worship has now begun." As a worship leader of over 20 years, that sense of vocation has never left me. People gather in homes, churches and pubs saying "Where, when can I go and meet with God?" The next worship leader (of every age) says "What about here, what about now?" and lights the candles of music, visual art, design, architecture, sacramental actions and other languages of worship for the gathered community of faith.
Through these acts of worship leadership in local faith groups, a number of vital, formational dynamics can occur in the Christian's life:
the biblical story is remembered and reclaimed,
personal and corporate devotion are renewed,
relational accountabilities are established,
shared resources are gathered,
fresh visions of faith are taught,
missional communities are galvanized in worldview and action, and
transcendant encounters with God are given a weekly arena in which to occur.
I have had a unique and diverse vantage point on the worship trajectories of the past 20 years. I have been involved as a pastor and worship leader (the local church), worked creating training resources for various record labels (the worship industry), taught in a Christian college (the faith-based university world), spoken about worship on radio (the Christian radio industry), written songs and made CDs (as a worship artist), and engaged in gathered worship experiences in many denominations (as a worshiper). As far as contemporary worship expressions go, you might say I've "seen it all," at least to some degree.
From these vantage points, I've watched the gifts and fads of gathered worship come and go, and worship leaders bob up and down on the waves of a fickle consumer market. My years of work in all of the above roles has exposed me to both the glory and gory stories of the Christian worship subculture over the past decades. Through it all, I am more committed than ever to celebrating, and reinforcing, the vocation of the worship leader in the ever-emerging world.
Worship Leaders Are Being Compelled To Grow
I see, like many, that a page is now turning, and the gifts given to the 20th century church, particularly in music and the gathered worship experience, are compelling us to mature with them like teenagers bumbling into young adulthood. The worship leader of yesterday could get away with some "fast and loose" approaches to theological and missional thinking. The worship leader of today simply must think through, and live out, their views on worship in a way that is under more scrutiny (a good word, in this case). The expectations for passionate leadership, creative innovation, theological reflection and missional engagement are simply much higher today than they were even ten years ago.
The worship leader of today is being shaped by God to be part artist, part pastor, part theologian, part cultural visionary, part historian, part storyteller and part technical wizard.
It is clear that a new kind of worship leader must rise to the challenge of navigating the gathered worship needs of the 21st century worshiper – and the 21st century human being. In fact, it is clear to me that a new kind of worship leader is already showing up across the world, prepared by God to be present to this multi-faceted call. I call this next worship leader a "worship artisan" – but that is for another article.
Ten Defining Marks Of The Next Worship Leaders
The following is a list of ten ways the next worship leaders will be set apart from those of the last 50 years. The next worship leaders will:
1. Artfully Narrate Human Origins
Through the media of music, visual art, literature, movement and oratory the next worship leaders will understand that human beings have greatness in them, and that greatness has a part to play in healing and beautifying the world. They will enlist the energies of artful storytelling to help those gathered to worship understand the human's role in the cosmic narrative of restoration.
2. Create Spaces For Transcendent Encounters
The most effective worship leaders understand that a song is a place to which we go; it is a transcendent space in which a living encounter can occur. Popular worship music will continue to have it's place as the shapes of church worship shift, but it will now run alongside of instrumental music, liturgies ancient and fresh, highly artistic music with more nuanced lyrics and many other (even esoteric) creative ways for a soul-in-process to engage with God.
3. Reinforce Biblical Worldview
To be truly human, the whole counsel of the scriptures lays out a worldview in which the Personality standing at the center of the cosmos interacts with the people created in His image. In response, these people are being transformed by the Spirit's art of personal healing (a theme we have majored on in corporate worship), and yet are also reflecting the revitalizing themes of justice, the hope of new life, and the inexhaustible resources of the New Creation into today's world. It is worship as we know it, but now using its whole brain.
4. Welcome The Holy Spirit As God
The next worship leaders understand that neither dry orthodoxy nor rampant emotionalism serve a well-thinking, spiritually formed, missional body of committed followers of Jesus Christ. They understand that without an ongoing encounter with the Person of the Holy Spirit (who is God, and not a force or plasma as some are wont to describe Him) the Church will not be empowered to bring cultural restoration in a lasting way. They know that both a strong pneumatology and a fully functional vision of the Trinity, are essentials ingredients in a church built for speed.
5. Affirm Both Creational And Redemptive Stories
This next idea will take more time to express, but for the next worship leaders, it is pivotal in shaping the way they think about the meaning of worship in today's church.
There are two stories at work in the world today, and they come together as one in Jesus' re-telling of the world. The creational story is a story shared by many human beings (both Christians and others) – love should win, we should not rape the planet, creativity is a beautiful gift flowing uniquely from every person, the vulnerable should be protected, wholeness is possible, relationships are precious, peace is closer to the way it "ought" to be than war, people have intrinsic dignity and the sex slave trade is horribly, horribly wrong.
Many Christians, taking a fresh hold of this creational story and seeing it as biblical, have realized just how similar a Christian is to other valiant human beings embracing these same ideals. However, some have assumed the creational story is the same as the redemptive story.