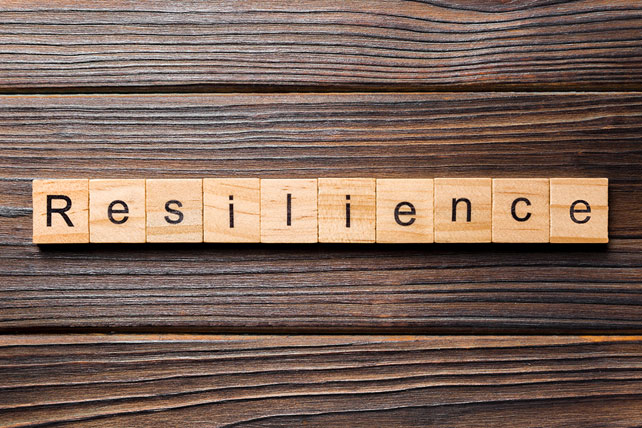 When facing difficulties in life, some of us are able to adapt and others get stuck or give up completely. Resilience is that ability to make adjustments when things don't go the way we hoped they would or planned. Those of us with resilience have the ability to amend our agendas, dreams, and desires by creating a new plan. Resilience doesn't mean we don't still feel the weight of our situation. It just means we look for available opportunities to make the best of it so we can continue to move forward. What a great challenge for us during this season of uncertainty and rapid change in worship preparation and implementation.
Resilience is also a great characteristic for worship leaders to learn and develop. It encourages recovery with grace instead of overreaction in anger when the service doesn't go as intended. Resilience averts relational catastrophes when people don't react as we hoped they would react or when plans don't go as well as we prayed they would go. Even though worship leaders have the responsibility to prepare with excellence they must also learn how to present with pliability, since the outcome of the service is not really theirs to control.
Thomas Merton wrote, "When humility delivers a man from attachment to his own works and his own reputation, he discovers that perfect joy is possible only when we have completely forgotten ourselves. And it is only when we pay no more attention to our own deeds and our own reputation and our own excellence that we are at last completely free to serve God in perfection for his sake alone."
When the British colonized India they introduced the game of golf. After the first course was built in Calcutta, the monkeys in the surrounding trees would drop down, snag the golf balls from the fairways or roughs, and drop them in other locations. Golfers quickly learned that if they wanted to play on this course they couldn't always control the outcome of the game. Resilience finally helped the officials and golfers come up with a solution. They added a new rule to their golf games at this course in Calcutta: play the ball where the monkey drops it.
None of us individually has enough creativity, insight, or endurance to plan, prepare, rehearse, and lead intergenerational, multisensory, and intercultural worship services in multiple styles week after week, year after year without making some mistakes. The psalmist wrote, "Sing to him a new song! Play your best with joyful shouts" (Ps 33:3)! We are indeed charged with playing and singing with skill and excellence. But excellence never means that we should leave relationships in our wake while moving toward the end result. The process with people is just as important as the destination.
So, the next time the organist and pianist begin playing a song in different keys, the next time the guitarist forgets to move his capo, the next time the tech team doesn't turn on your microphone or forward the text to the next slide, the next time the soprano section comes in too soon, the next time your bass player misses the first service because he forgot to set his alarm, just play the ball where the monkey drops it.
TEAM DISCUSSION QUESTIONS
What is the difference between a culture of rigidness and one of resilience? Where does our team usually land?
How do we encourage resilience without sliding into the acceptance of mediocrity?
How is it possible to strive for excellence without leaving relationships in our wake?
In what ways can we involve the entire team in evaluating a healthy balance of expecting excellence but also offering grace?
This article originally appeared here, and is used by permission.
The above is an excerpt from David Manner's new book, Better Sundays Begin on Monday: 52 Exercises for Evaluating Weekly Worship, Copyright ©2020 by Abingdon Press. Print and E-Version copies are available at: Amazon, Barnes & Noble, Goodreads, Books A Million, Cokesbury, and Christian Book.