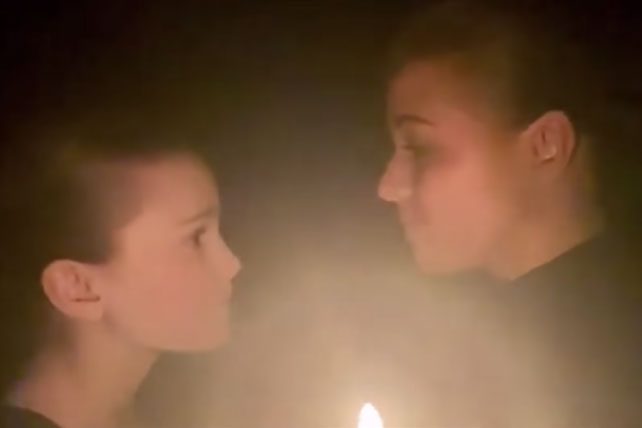 A YouTube video of two girls from Canada is making waves on the internet. The young sisters from Fort Frances, Ontario sing an Easter Hallelujah that is so beautiful, it'll likely bring tears to your eyes.
The Easter Hallelujah
A YouTube video was posted of sisters, Cassandra Star and Callahan Armstrong, singing a version of singer/songwriter Leonard Cohen's "Hallelujah" that alters many verses to tell about Jesus' death and resurrection. Kelley Mooney, the author of this Easter Hallelujah, wrote these beautiful verses when her church asked her to sing Leonard Cohen's song for the congregation on a Sunday.
In preparing to sing, Mooney, reviewed the lyrics and noticed that Leonard Cohen's version didn't tell the story of Easter; so she created new lyrics that she felt would not only tell what Jesus did through His sacrifice on Good Friday, but glorify His name and power that He showed when He was resurrected on Sunday.
Watch the sisters sing this Easter Hallelujah on YouTube:
The Easter Hallelujah calls to mind the events of Good Friday, saying:
"A crown of thorns placed on His head,
He knew that He would soon be dead.
He said, "Did you forget me, Father, did you?"
They nail Him to a wooden cross,
Soon all the world would feel the loss,
Of Christ the King before His Hallelujah."
According to the YouTube post, sisters Cassandra Star and Callahan Armstrong were recorded in this duet by their grandmother, who wasn't able to be with them on Easter during the pandemic. On the post, the girls wrote that the Easter Hallelujah is her favorite song. There are several iterations of this video on YouTube, each with hundreds of thousands of views—and for good reason. The girls dedicated their performance to their grandma, saying she "needs extra love and prayers right now."
Continuing on with the verses, the song goes as follows:
"He hung His head and prepared to die,
Then lifted His face up to the sky.
Said 'I am coming home now, Father, to you.'
A reed which held His final sip,
Was gently lifted to His lips.
He drank His last and gave His soul to glory."